SJH501
Slow juicer SJH501
Freshly squeezed juice in SJH501 extractor is a product of the highest quality!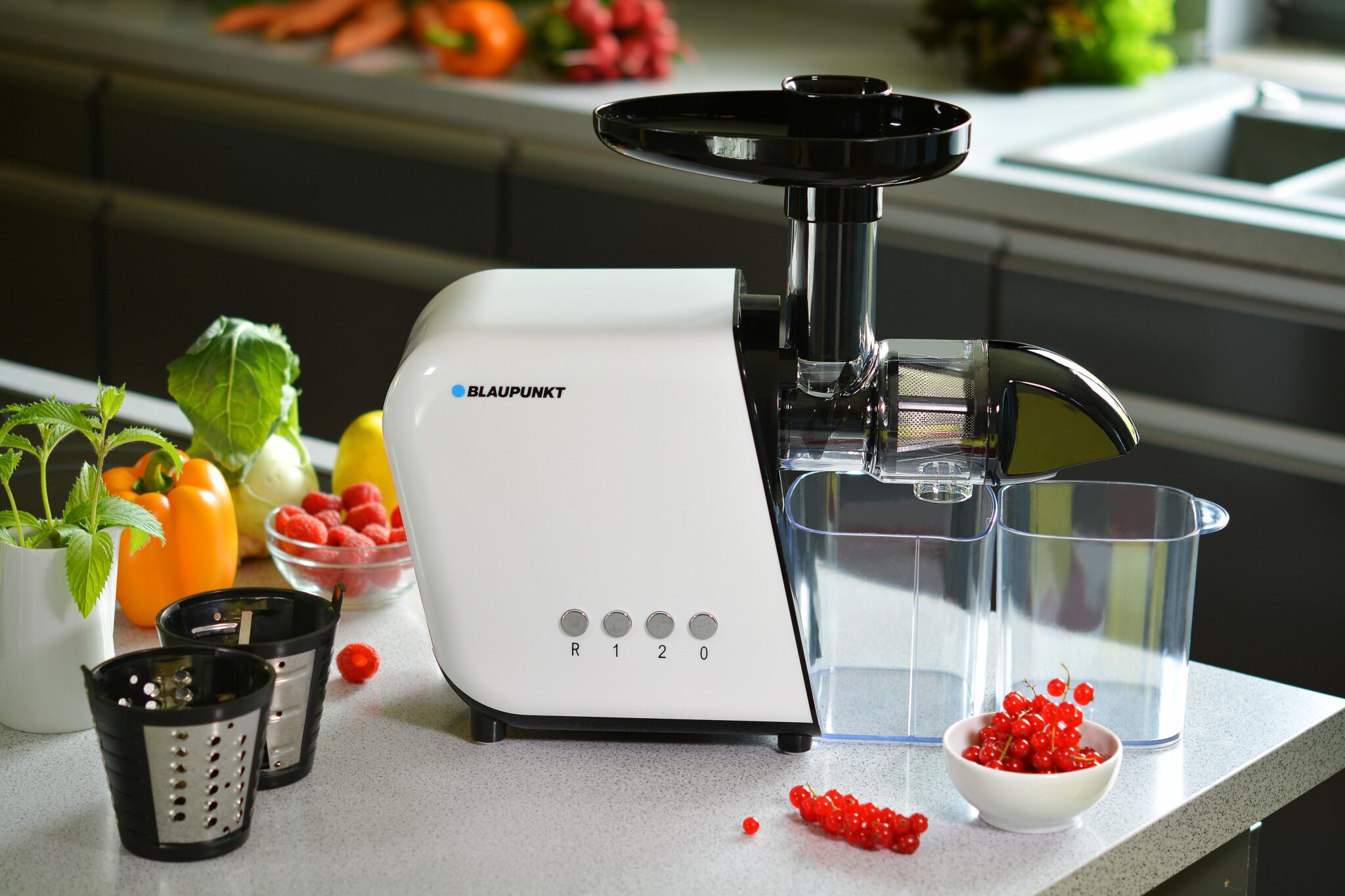 Świeżo wyciskane soki mają zbawienny wpływ na nasze zdrowie. Do naszego organizmu w ekspresowym tempie dostarczane są witaminy i minerały, które są budulcem dla tworzenia nowych komórek w naszym ciele i wzmacniają nasz system immunologiczny.  Przygotowując sok samodzielnie możemy do niego dodać składniki, których zazwyczaj nie jadamy jak np. seler czy pietruszka, a które są ważne dla zdrowia naszego i naszych dzieci. Dzięki wyciskarce poziomej SJH501 marki Blaupunkt mamy możliwość spożywania soków ze świeżych owoców i warzyw bogatych we wszystkie wartości odżywcze.
INNOWACYJNA TECHNOLOGIA
SJH501 to wysokiej jakości wyciskarka, cechująca się niezwykłą wydajnością pozwalającą na uzyskanie aż do 85% soku owoców. Silnik o mocy 150 W, w który urządzenie zostało wyposażone oraz dwie prędkości świdra (70 i 120 rpm) pozwolą na dopasowanie trybu pracy do wyciskanych produktów. Celem zwiększenia komfortu użytkowania i zapobieganiu blokowaniu się produktów, urządzenie wyposażono również w bieg wsteczny.
DOSKONAŁA ERGONOMIA
Wyciskarki horyzontalne pracują wolniej niż pionowe, posiadają wytłumienie boczne, a ich silnik znajduje się w innym miejscu. Wszystko to sprawia, że pracują ciszej, nie zakłócając domowej ciszy. Wolniejszy ruch świdra oznacza również mniejszą temperaturę pracy urządzenia, dzięki czemu wyciskane soki nie nagrzewają się i zawierają maksimum fitosubstancji oraz witamin.
Dwa osobne pojemniki na pulpę i sok o pojemności 1 l dopełniają komfortu obsługi, a pozioma konstrukcja, dzięki zastosowaniu mniejszej ilości elementów, zdecydowanie skraca czas potrzebny na czyszczenie i konserwację urządzenia.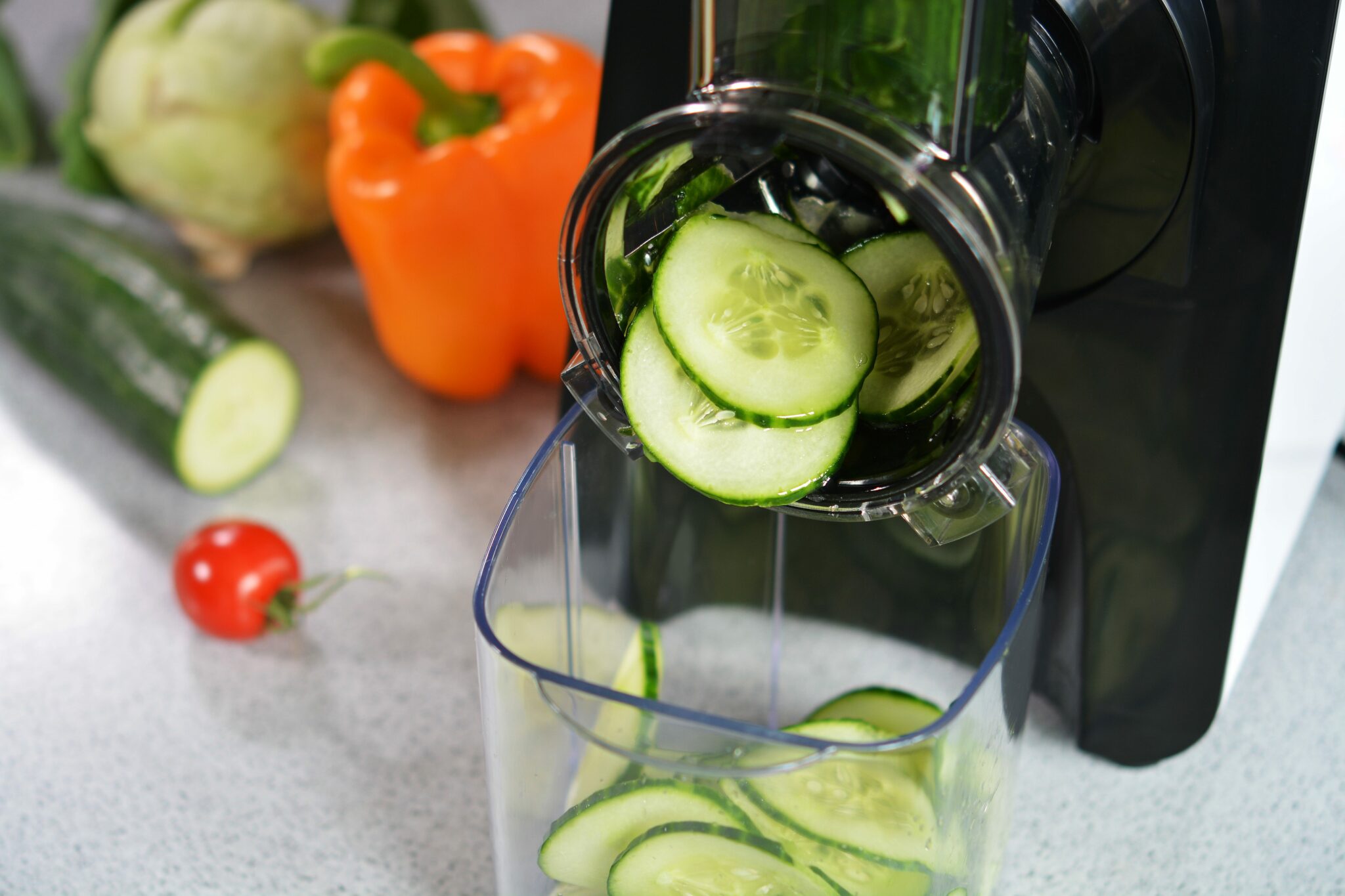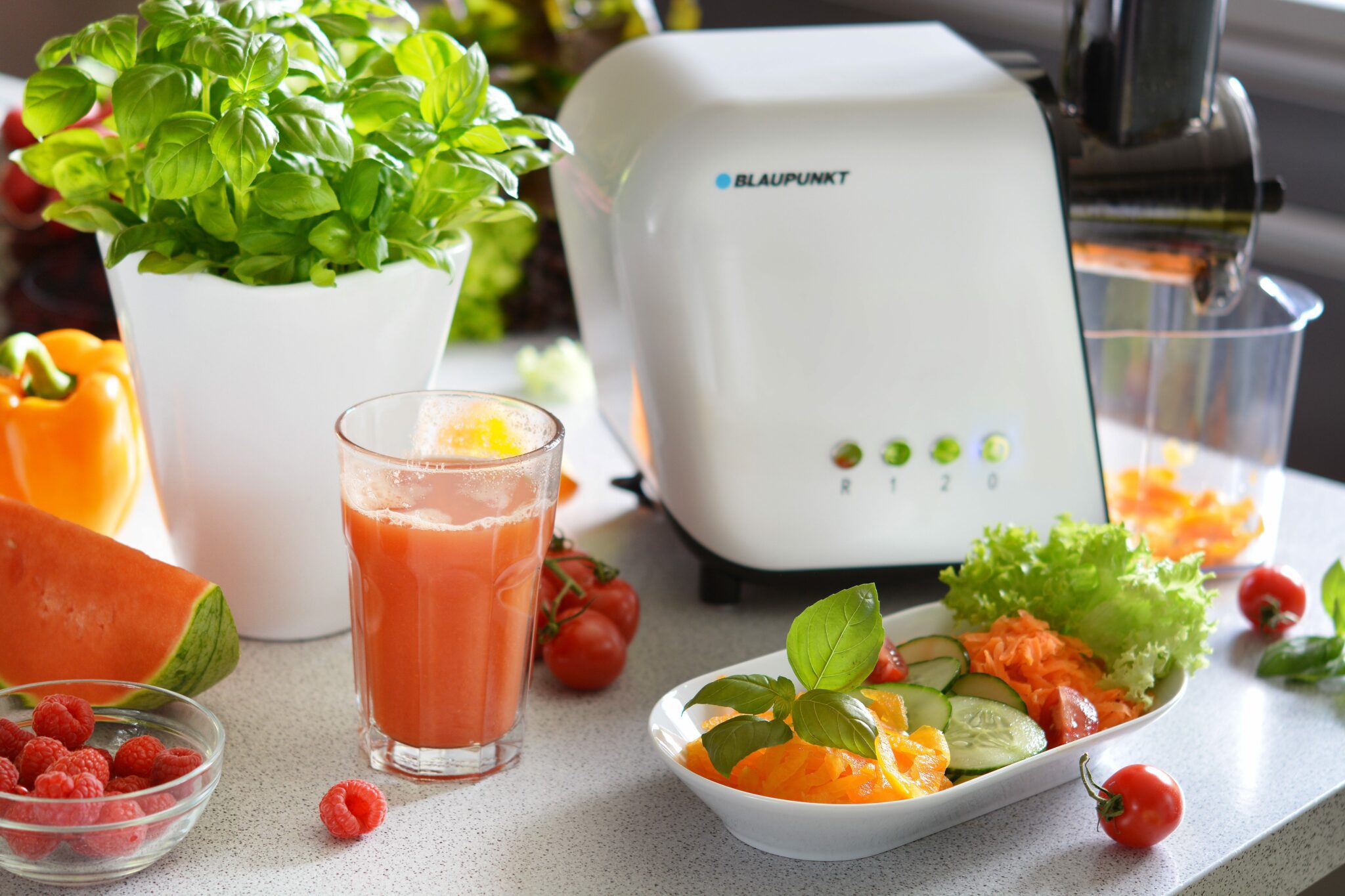 Wyciskarki horyzontalne umożliwiają doposażenie ich w dodatkowe funkcje, które pozwalają zaoszczędzić czas i miejsce w kuchni użytkownika, eliminując konieczność kupowania kolejnych urządzeń. W zestawie z modelem SJH501 znajduje się nasadka szatkownicy, składająca się z dwóch tarek do tarcia i krojenia. Z jej pomocą szybko przygotujesz np. zdrową sałatkę, która uzupełni porcję witamin i mikroelementów, kluczowych dla naszego zdrowia i dobrego samopoczucia.
NOWOCZESNY DESIGN
Stylowa, biało-czarna obudowa sprawi, że wyciskarka SJH501 będzie doskonałym uzupełnieniem każdej kuchni. Masz więc gwarancję, że przyrządzane przez Ciebie soki i koktajle będą zawsze świeże, pożywne i zdrowe!
Specifications
Special design of the auger for best performance of cutting, grinding and extracting of juice
Two rotating speeds (70, 120 rpm)
Extracts from fruits up to 85% of juice
Reverse function
1 l cup for juicer and 1 l cup for pulp
Vegetable slicer with two cutters (grating, slicing)
Power supply 220 – 240 V ~ 50 Hz, power: 150 W
Dimension: 42 x 16.5 x 35 cm
Weight: 4.5 kg
EAN code: 5901750500763
Downloads