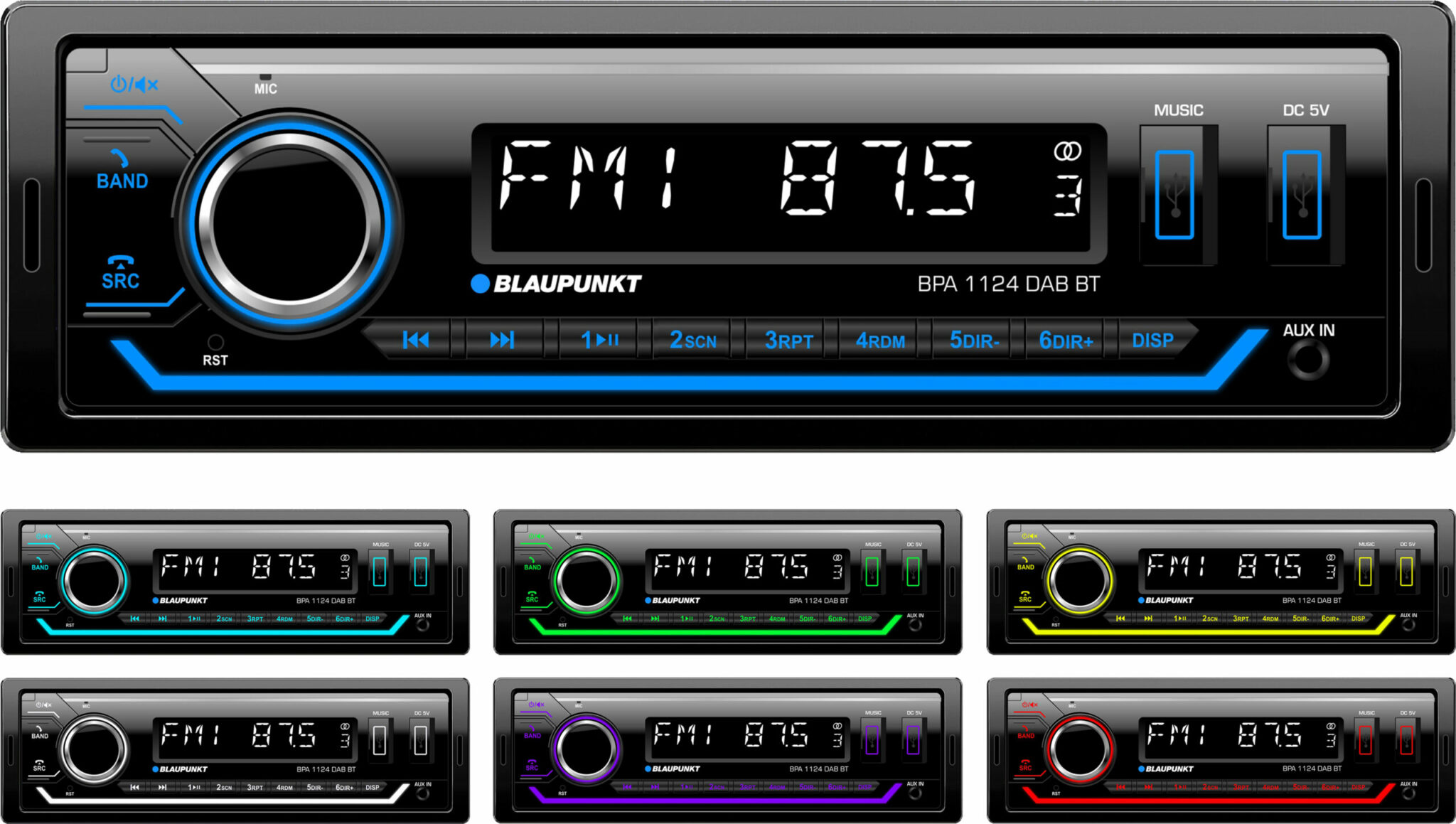 Digital radio reception for beginners with class
The Blaupunkt DAB car radio "1124 DAB BT" in 1-DIN format offers digital radio reception in a new and modern design with Multicolour lighting. With 2x USB (1x for charging your smartphone), Aux-In and Bluetooth streaming, playing digital media is easy. And the radio reception? Digital, of course.


Specifications
Radio
RDS Tuner
FM, AM Tuner
DAB, DAB+ Tuner
Traffic function (FM)
Mediaplayer
USB (front)
MP3, WMA playback
Bluetooth
Phone calls with internal or external Microphone
Audio streaming with track display
Sound
Sound Presets
Loudness
4-channel pre-amp output + Sub-Out
4 x 50 Watts
General
Multicolour (7 colors)
Permanent memory
Short installation depth
Second USB Port for charging mobile devices with max. 2A
RADIO ANALOG / DIGITAL
Tuner Type: RDS Tuner
World Tuner (switchable): EU, USA
Frequency bands: FM, AM, DAB, DAB+
Frequency band FM: 87.5 – 108 MHz
Frequency band MW: 531- 1602/ 530- 1710 kHz
Channels (frequency band) DAB/ DAB+: 5A- 13F (174,928- 239,200 MHz)
Station memory: 18x FM, 12x AM, 18x DAB
Station memory levels deactivatable: No
Station display (PS): Yes
Radiotext/ Radiotext Plus (RT/ RT+): No/ No
Display DLS/ ENSEMBLE/ SERVICE: No/ No/ Yes
Alternate frequency function (AF): Yes
Traffic Radio (TA) FM/ DAB: Yes/ No
RDS Time (CT) FM/ DAB: Yes/ Yes
Enhanced Oth. Netw. (EON): No
Regional function (REG): Yes
PTY- Info/ Seek FM/ DAB: Yes/ No
Travelstore/ Number of Presets for Travelstore (FM): Yes/ 18
Band Scan + Preset Scan FM/ DAB: No/ No
Sensitivity (FM): Two levels (lo / dx)
Noise suppression (FM): Yes
Hi-Cut (FM): Yes (automatically)
DAB-DAB Service following: No
DAB-FM Service following: No
Service scan: No
Ensemble/ Service selection: Yes/ Yes
Ensemble/ Service browsing: No/ No
Frequency response FM (Hz) -3dB: 30 – 15.000 Hz +/- 3 dB
Frequency response DAB (Hz) +/- 3dB: 20 – 20.000 Hz +/- 3 dB
MEDIAPLAYER
AUX Front: Yes (3.5 mm jack)
AUX detection/ automatic source activation: No/ No
USB front: yes (1x type A "MUSIC" max. 0.7A, 1x type A "DC 5V" max. 2A*)
USB rear: No
Memory card reader: No
Concealed front inputs: Yes (USB)
Compatible file system (USB, memory cards): FAT16, FAT32, exFAT
Maximum storage size (USB, memory cards): > 64 GB
Maximum file/folder count (USB, memory cards): > 9.999
Playback formats: MP3, WMA
Display options: ID3V2
Folder & file browsing: No
iPod, iPhone control: No
Change Track / Folder/ FF, REW/ CUE, REWIEW: Yes/ Yes/ Yes/ No
Shuffle folder/ media: Yes/ Yes
Repeat track/ folder/ all: Yes/ Yes/ Yes
Scan: Yes (5 seconds)
BLUETOOTH*
Phone call: Yes
Internal microphone: Yes
Connectivity ext. microphone: Yes
Answer/ reject call: Yes/ Yes
Access phonebook: No
Audio streaming: Yes
Audio streaming ID3 track display: Yes (Title, Artist)
Voice assistant access (e.g. Siri, Google, Alexa): No
Cell phone navigation audio mix: No
Auto wake-up on phone call: No
Fast pairing without PIN: Yes
Automatic reconnection: Yes
Bluetooth version: 5.0
Number of paired devices: 1
No. of devices connected at the same time: 1
Supported profiles: A2DP, AVRCP, HFP, SPP
Audio Codecs: SBC
*Availability/ support of functions depend on the phone/ app/ accessory used!
SOUND
Equalizer Number of bands/ design/ Q-filter: No/ No/ No
Bass/ treble adjustment: Yes / yes (+/- 7 steps)
Source specific bass/ treble adjustment: No
Balance/ fader: Yes / yes (+/- 7 steps)
HPF/ LPF: No/ No
Loudness: Yes
Sound Presets: Rock, Pop, Classical, Jazz, Flat
Speaker Outputs (Channels): 4
Preamp Outputs (Channels, Voltage): 4 (RCA, 1V)
Max. Power: 4 x 50 watts
Sine power at 14.4 V: 4 x 24 watts (according to DIN 45324)
Sub-Out: 2 (RCA)
GENERAL
Display: LCD, negative, anti-reflective, wide angle, Alphanumeric/ Symbols
Illumination color display/ keys: Multicolour (auto, red, green, blue, yellow, cyan, violet, white)
Day/ Night mode: No
Brightness: Fixed
Time display: Yes
HMI languages: English
Low standby current: Yes (< 3.5 mA )
Antenna inputs: FM DIN/ ISO, DAB SMB (with 12 V phantom power)
Telephone mute: No
Ext. handsfree microphone connector: Yes
Remote control: No
Steering wheel remote control (SWC): No
Variable scan time: No
Confirmation beep: Yes (can be deactivated)
Control panel type: Fixed panel
Color panel/ decor ring: Black matte
Software Update: via USB
Permanent Memory: Yes (Settings & Presets)
Demo mode: No
Weight: approx. 0.44 kg
Dimensions: 50mm x 178mm x 102mm (H x W x D, housing only),   58mm x 187m x 113mm (H x B x T , incl. front with keys)
Operating voltage/ Power consumption: 10.5 – 14.4 V/ in operation: < 10A, 10 sec. after ACC off: < 3.5 mA
SCOPE OF DELIVERY
User manual: Yes (DE, EN, FR, ES, PT, IT, NL, HU, PL, CS, FI, EL, TR, RO, BG, SL, SK)
DAB antenna: Optional accessories (e.g. 2 006 021 000 000)
IR remote control: No
External handsfree microphone: Yes
Mounting frame/ Unlocking tool: Yes/ Yes
Connectors (ISO A, B): Yes
Antenna adaptor (DIN/ ISO): Yes
Downloads