ROME 990 DAB
Rome 990 DAB
The Rome 990 DAB combines high-quality SafeDrive design down to the last detail, a highly attractive, Android-based operating concept and a breathtaking range of functions.
Android Raffinesse
Das Rome 990 DAB vereint hochwertiges SafeDrive Design bis ins letzte Detail, ein hochattraktives, Android-basierendes Bedienkonzept sowie eine atemberaubende Funktionsvielfalt. Es besticht durch ein 10.1 Zoll großes, kapazitives Display und kombiniert erstklassigen RDS Radioempfang, einen eingebauten DAB+ Doppel-Tuner, ein immenses Entertainment-Angebot und viele Verbindungsmöglichkeiten zu allen Arten mobiler Medien inklusive Smartphones. Mit dem Blaupunkt Mirror Mode können Sie sogar das Display Ihres iPhone oder Android Smartphones auf dem großen Radiodisplay spiegeln. So haben Sie all Ihre persönlichen Inhalte und Apps auch im Fahrzeug immer zur Hand. Oder nutzen Sie Ihr Smartphone als mobilen Hotspot und gehen über den Browser des Rome 990 DAB ins Internet – obwohl Sie auch gleich direkt ins Netz gehen können, sofern ein Wi-Fi Hotspot bereitsteht. Aber egal wonach Sie suchen, das Rome 990 DAB wird eine gute Antwort für Sie haben.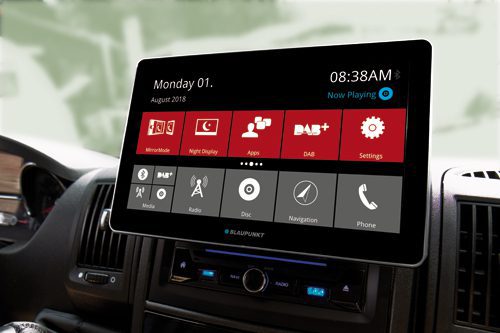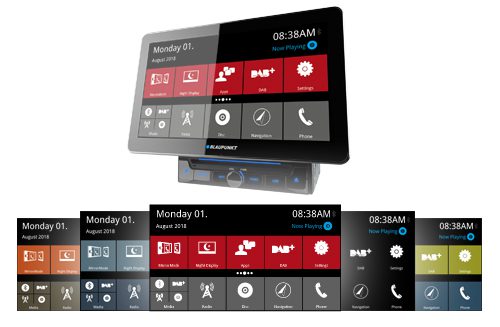 Graphisches Interface
Das Rome 990 DAB bietet alle Möglichkeiten der Personalisierung. Basierend auf dem Android Betriebssystem lassen sich Menü-Optik und Inhalte ganz nach Ihrem Geschmack gestalten. Sei es ein privates Foto als Displayhintergrund, die Auswahl der Farben für die Menü-Icons, das Löschen nicht benötigter Funktionen oder deren Gruppierung zu persönlichen Ordnern. Sie haben die Wahl.
Optionale Navigation
Mit der optional erhältlichen Navigation wird das Rome 990 DAB zu einem erstklassigen Navigationssystem und Sie können jedes Ziel komfortabel, schnell und entspannt erreichen. An unbekannte Orte zu reisen wird kein Problem mehr sein. Mit der Option Navigation zeigt Ihnen das Rome 990 DAB immer die kürzeste oder beste Route, um Ihr Ziel zu erreichen.
Navigationsvarianten:
• Rome 990 DAB Navigation ready
• Rome 990 DAB (NAV CAR) Europa Kfz-Navigation mit 12 Monate Kartenupdate und Online Traffic
• Rome 990 DAB (NAV TRUCK/CAMPING) Europa Truck-Camper Navigation mit 12 Monate Kartenupdate und Online Traffic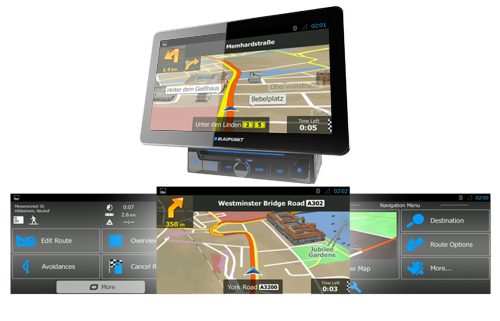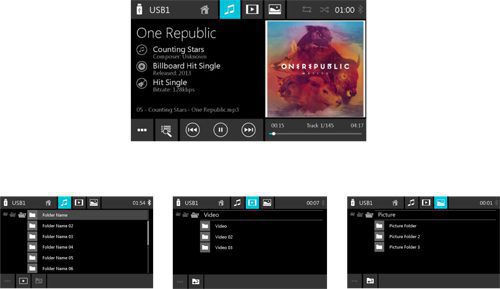 Media Player
Die stetige Nutzung digitaler, mobiler Daten und Medien ist völlig selbstverständlich geworden. Zwangsläufig ist es eine absolute Pflicht moderner Endgeräte, diese auch zu unterstützen. Aber allein die Bandbreite der unterstützten Medien und Formate macht den großen Unterschied. Das Rome 990 DAB erlaubt sich dabei keine Kompromisse. Audio, Video und Bildformate werden nicht nur von der Disc unterstützt, sondern vor allem auch von microSDHC Karten und USB. Der Fülle an Dateien auf dem jeweiligen Medium sind dabei quasi keine Grenzen gesetzt.Selbst 40.000 Dateien bereiten dem Rome 990 DAB keine Schwierigkeiten. So viele Tracks machen aber nur Sinn, wenn die Auswahl dennoch leicht von der Hand geht. Genießen Sie es, wie spielerisch genau dieses mit dem Rome 990 DAB funktioniert.
Sound Tuning
Über das grafische Interface des Rome 990 DAB lässt sich der parametrische 10-Band Equalizer zur individuellen Klangoptimierung im Fahrzeug einfach und exakt einstellen. Ist das "Spielen mit den Frequenzen" aber nicht Ihre Sache, stehen eine ganze Reihe voreingestellter Klangprofile zur Verfügung. Je nach persönlichem Geschmack von Pop, Rock, Elektro, Jazz bis hin zu klassischer Musik.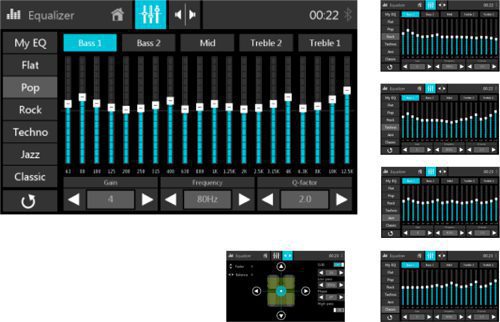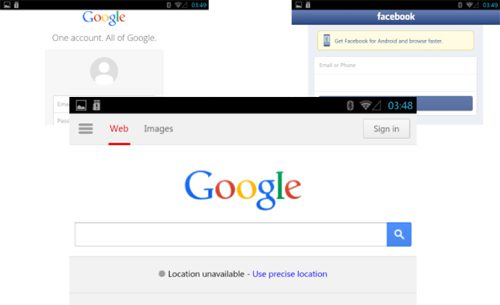 Internet Browsing
Müder von der langen Fahrt und einfach mal Anhalten und in das Internet abtauchen. Über Wi-Fi können Sie sich direkt in einem vorhandenen Hotspot einwählen oder Sie nutzen alternativ Ihr Smartphone als Zugang zum Netz. Egal ob Sie wichtige Mails lesen möchten oder nur mal eben Chatten wollen, auf dem 10.1 Zoll großen Display des Rome 990 DAB werden Sie es genießen.
Analog Radio
Mit der High-End Tuner Generation CODEM IV von Blaupunkt keine Kompromisse in puncto Radioempfang und RDS-Verhalten eingehen. Selbst bei schwierigsten Empfangsverhältnissen werden Sie es nicht mehr missen wollen.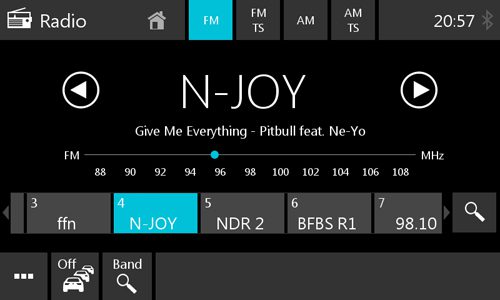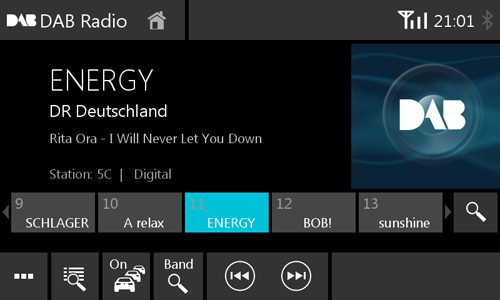 Digital Radio
Kristallklares, digitales Radio genießen mit dem eingebauten DAB+ Doppel-Tuner. Wobei der Genuss schon bei der Auswahl der Programme beginnt. Sei es beim Browsen durch die verfügbaren Ensembles und deren Programmstruktur, oder schlicht bei der Auswahl aus einer alphabetischen Liste aller Programme.
Bluetooth Telefonie
Einmal das Telefonbuch Ihres Smartphones mit dem Rome 990 DAB synchronisiert, steht der komfortablen Kommunikation während der Fahrt und über die Audioanlage nichts mehr im Wege. Für beste Sprachqualität stehen alternativ das integrierte oder ein externes Mikrofon für die perfekte Einbauposition bereit.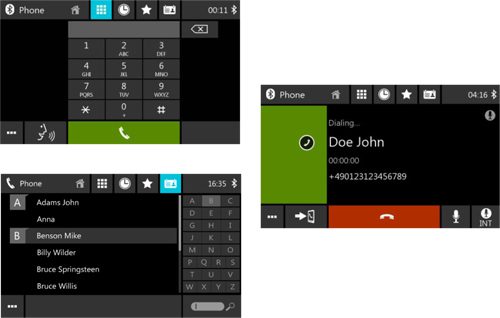 Einstellungen
Atemberaubende Funktionsvielfalt ist nicht gleichbedeutend mit komplizierter Steuerung. Alle Menüs sind konsequent einfach und klar arrangiert, attraktiv gestaltet und vor allem einfach zu bedienen.
Bedienkonzept
Der optimale Bedienkomfort ist ein wichtiger Faktor für die Sicherheit beim Fahren. Insbesondere die Lautstärkeregelung und das Umschalten vom Radio zur Navigation oder das Aufrufen des Hauptmenüs müssen schnell und einfach zugänglich sein. Dank der Bedientasten (Home, Navigation, Radio) und der leicht zugänglichen Lautstärkeregelung kann das Blaupunkt Rome 990 DAB auch während der Fahrt einfach und sicher bedient werden.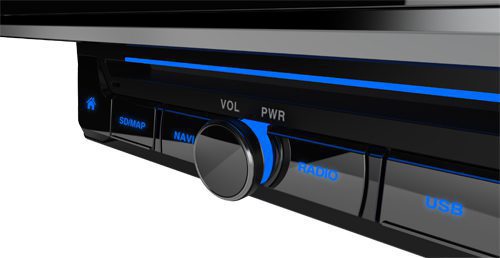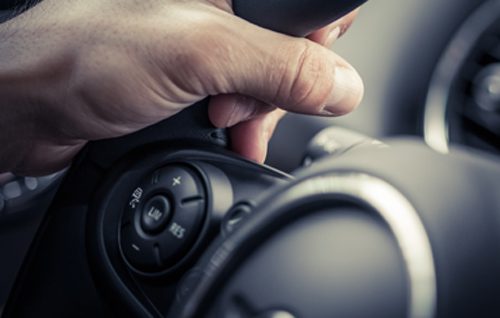 Lenkradfernbedienung
Wenn Ihr Fahrzeug mit Fernbedienung am Lenkrad ausgestattet ist, können Sie es zusammen mit dem Blaupunkt Rom e990 DAB über die SWC (Lenkradsteuerung) verwenden. Dank der SWC-Funktion übernimmt die Lenkradfernbedienung die wichtigsten Funktionen wie Lautstärke, Stummschaltung oder Bluetooth des Radios. Ein weiteres Sicherheitsmerkmal für die Blaupunkt SafeDrive-Philisophie.
Permanenter Speicher
Dank des integrierten permanenten Speichers speichert das Rome 990 DAB die Benutzereinstellungen und die voreingestellten Sender, wenn die Hauptstromversorgung ausfällt.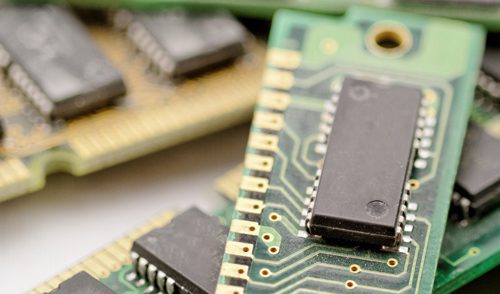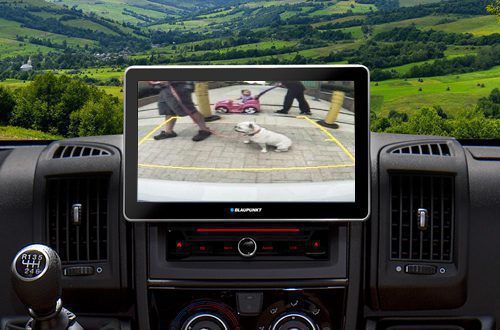 Rückfahrkamera
Parken kann eine Präzisionsarbeit sein. Das Rome 990 DAB verfügt über zwei Kameraeingänge (CAM1 Audi/Video) und (CAM2 Video). So behalten Sie immer den Überblick und nichts sollte mehr schief gehen.
Audio / Video Eingänge
Flexibilität ist auch bei den analogen Verbindungen gegeben. Die beiden hinteren AV-Eingänge (AV-IN 1 und AV-IN 2) ermöglichen den dauerhaften Anschluss externer Quellen.
Besuch uns auch auf Facebook!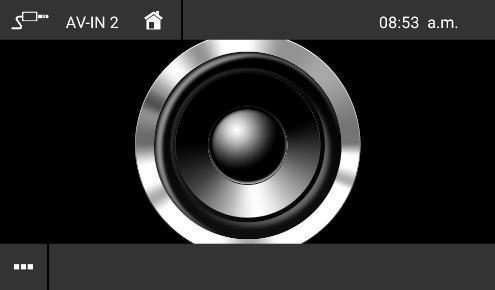 Specifications
System
Operating System Android 6.0
Intuitive Blaupunkt User Interface
Radio
CODEM IV high-end tuner
FM (RDS), AM tuner
DAB+ built-in (Twin-Tuner)
Display
Large 10.1" capacitive multi-touch screen
Resolution 1024 x 600 pixels
Navigation
Rome 990 DAB: Navigation Ready
Rome 990 DAB NAV CAR variant: Europe car navigation (12 months map update and online traffic)
Rome 990 DAB NAV TRUCK variant: Europe truck navigation (12 months map update and online traffic)
Data carrier
DVD, VCD, CD, CD-ROM, USB, SDHC, SDXC
Media player
Audio, Video, Picture from USB/SDHC/Disc
iPod/iPhone control via USB
Audio formats MP3, OGG, FLAC, ACC, APE
Mirror Mode
Mirror & control of smart phone via radio
For iPhone and Android smart phones
Wi-Fi / INTERNET ACCESS
Wi-Fi module for online acccess built-in
Bluetooth
Built-in Bluetooth 4.1
(HFP, PBAP, A2DP, SPP, HID, RFCOMM, AVRCP)
Built-in microphone + external mic connection
Inputs / Outputs
Front & rear USB
Front SDHC slot
2x rear A/V input
Rear view camera input (Audio/Video)
Steering Wheel Control input
HDMI input
Equalizer / Amplifier
10-band parametric equalizer
4-channel pre-amplifier plus Sub-out
4 x 50-Watt Max. power
General
Permanent memory
IR remote control included
DAB+ onglass antenna included
SafeDrive remote controller SDC 2.0 optional
SYSTEM
Operating system: Android 6.0
CPU: Quad-Core processor
RAM: DDR3 SDRAM 2GB
Built-in Flash: 16GB
User interface: Blaupunkt dynamic graphic user interface
Permanent memory: yes (user settings, presets etc.)
DISPLAY
Technology: Digital
Type: Capacitive multi-touch screen control
Screen size: 10.1″
Resolution: VWGA 1024 x 600 pixels
Touchscreen: yes
Brightness adjustable: yes
Display switch off: yes (selectable via Night Display APP)
Clock / Date display: yes (auto sync via GPS)
Clock mode: 24 / 12 hoursHome screen folder creation: yes (up to 6 apps by folder)
Wallpaper options: yes (still, motion options, picture upload)
Radio system languages: Czech, English, French, German, Hebrew, Italian, Polish, Spanish, Turkish, Norwegian, Russian
ANALOG RADIO
Type of tune: High-end CODEM IV
Tuner region: Europe
Wave bands: FM, AM
Radio Data System (RDS): AF, PS, PTY, TA, RT
Travelstoreyes: (FM, AM)
Band Scan / Preset Scan: yes / yes
Search via frequency: yes
Select via frequency scale: yes
Station memory: 30
Sensitivity: lo/dx
Frequency response (Hz) -3dB: 50 – 15.000
DIGITAL RADIO
DAB-ready: yes (built-in twin-tuner)
DAB Band III / L-band: yes / no
Service update: yes (auto/manual)
Manual ensemble search: yes
Station memory: 30
Ensemble browsing: yes
Station browsing: yes
Band Scan / Preset Scan: yes / yes
Service link DAB-FM: yes
Radio text: yes
Programme types (PTY): yes
Traffic announcement: yes (via FM RDS TA)
NAVIGATION
Rome 990 DAB: Navigation Ready
Rome 990 DAB NAV CAR variant: Europe car navigation (12 months map update and online traffic)
Rome 990 DAB NAV TRUCK variant: Europe truck navigation (12 months map update and online traffic)
DATA CARRIER
DVD: DVD, +/-R, +/-RW, -ROM
VCD: yes
CD: CD-DA, -ROM, -R/-RW
Type disc-drive: Automatic loading
Shock proof memory: yes (with buffer < 12 S)
Frequency response (Hz) -3dB: 20 – 20.000
USB-removable storage: USB 2.0 compatible
Memory cards: microSDHC, SD, SDXC (up to 32GB)
Wi-Fi / INTERNET ACCESS
Internet access: yes (via Wi-Fi)
Built-in Wi-Fi module: yes
Wi-Fi hotspot: no
DVD PLAYER
Track up / down: yes / yes
Fast forward / fast rewind: yes / yes
Position via progress bar: yes
Repeat chapter / title: yes / yes
Play / pause / stop / resume: yes / yes / yes / yes
Chapter skip / search: yes / yes
Last position memory: yes
Root menu: yes
Setup: yes
Title menu: yes
Sub-titles / audio language: yes / yes
Zoom / angle: yes / yes
Dolby Digital 2.0: yes
BLUETOOTH
Supported version: Bluetooth 4.1
Supported profiles: HFP, PBAP, A2DP, AVRCP, SPP, HID, RFCOMM
Pairing (number of devices): 5
Pairing code: 0000 (default)
Hands-free calling: via micro + radio speakers
Voice dial: no
Key functions: accept / hang up / reject call
Phone book access: yes (up to 1.500 entries by phone)
History call lists: yes (missed, dialled, received calls)
Auto synchronisation: yes (on/off)
Auto connect / Auto answer: yes (on/off) / yes (on/off)
Favourites: yes (manually)
2nd call handling: no
Twin Connect: no
Microphones: 2 (built-in + external rear micro)
MEDIA PLAYER
Video playback fle formats: AVI, MP4, MPEG, RM, FLV, MPG, ASF/WMV, MKV, OGM, TS
DivX® video format: no
Picture playback formats: JPEG, JPG
Audio playback formats MP3, AAC, WAV, FLAC, APE, AC3
MP3 Title display: ID3-tag (versions 1 and 2), file/folder names
Album art display: yes
ID3-tag criteria display: Artist, album, song, composer, year of release, file bitrate
Mix: yes (all, folder)
Repeat: yes (all, folder, track)
Fast forward / fast rewind: yes (via progress bar)
Audio book speed variable: yes (for iPod, iPhone)
Bit rate MP3: 32 – 320 kBit/s
Variable bit rates: yes
Number of files on MSD: up to ~ 40.000 files, depending on folder/file structure
iPod / iPhone control via USB: yes
iPod via front / rear USB: yes / yes
iPod video: no
Works with Pandora®: no
SiriusXM ready: no
EQUALIZER
Number of bands: 10
Model: parametric
Type: analogue
Variable Q-factor by band: no
Subwoofer switchable: no
Variable subwoofer gain: yes
Variable Subwoofer phase: no
Variable high-pass filter : no
Variable low-pass filter: yes (55/85/120/150/180 Hz)
Sound presets: My EQ, Flat, Pop, Rock, Electro, Jazz, Classic
Balance / fader: yes / yes
Source specific volume: DVD, Radio, A/V1, A/V2, DAB, Media
MIRROR MODE
Smart phone mirroring: yes (easy connection via USB*)
Smart phone touch control: yes (Android 2 way control, iPhone one way control)
AMPLIFIER
Number of channels: 4
Max. power: 4 x 50 Watt
Sinus power at 14.4 V: 4 x 22 Watt
INPUTS
Antenna: 3 (Radio, DAB, GPS)
DAB: built-in
DVB-T: no
SiriusXM: no
USB: USB 1: Front USB (standard A-type), USB 2: Rear USB (standard A-type)
Memory cards: front, microSDHC, microSD, micro SDXC
HDMI input: yes (rear, full size Type A)
Audio / Video (analogue): AV-In 1: Rear A/V (3.5 mm jack, 0,5V), AV-In 2: Rear A/V (RCA type)
Rear view Audio/Video CAM1: yes (RCA) with remote signal out
Rear view Video CAM2: yes (RCA) with remote signal out
Reverse gear: yes
Handbrake: yes
External hand-free micro: yes (3.5 mm jack, rear)
IR remote control: yes (front panel)
Steering wheel remote control: yes (SWC, rear, analogue, 3.5 mm jack, programmable via menu)
Power supply: yes (ISO)
OUTPUTS
Video / Audio out: yes (RCA)
4-channel preamp out: yes (RCA, 3V)
Subwoofer: yes (RCA)
Audio channels: 4
GENERAL
Installation: 2-DIN slot
Operating voltage: 10,5 – 14.4 V
Current consumption: In operation:  < 10 A 10 sec. after switch-off:  < 5 mA
Front panel: fixed
Colour: black
Multicolour illumination: Keys + disc slot: 16 mill. Colours
Icons: 16 mill. Colours
ACCESSORIES INCLUDED IN DELIVERY
User manual included: yes
IR remote control: yes (incl. battery)
GPS antenna: yes
External Wi-Fi antenna: yes
External hands-free micro: yes
Trim ring: yes
Mounting frame: yes
Mounting material: yes
Connector cable sets: Power (ISO A), Speakers (ISO B), Preamp-/Sub-out, Video-out 1, 2 (RCA), Camera, A/V (RCA+ 3,5mm Jack), Fixed rear USB & HDMI, Hands-free microphone (3.5 mm jack)
Radio antenna input
OPTIONAL ACCESSORIES
Car Multimedia Controller
SafeDrive SDC 2.0: yes (incl. battery & connection box)
Downloads