BLAUPUNKT-FA-E27-8-WW
LED Bulb Filament 8W Amber Retro Dimmable
Bring Blaupunkt LED Lighting to Your everyday life and create the perfect atmosphere for Your living space and work area. Explore how colour adds ambiance, ephasize Your decor or simply save energy and reduce household bills. Now, it's all possible with Blaupunkt LED lights.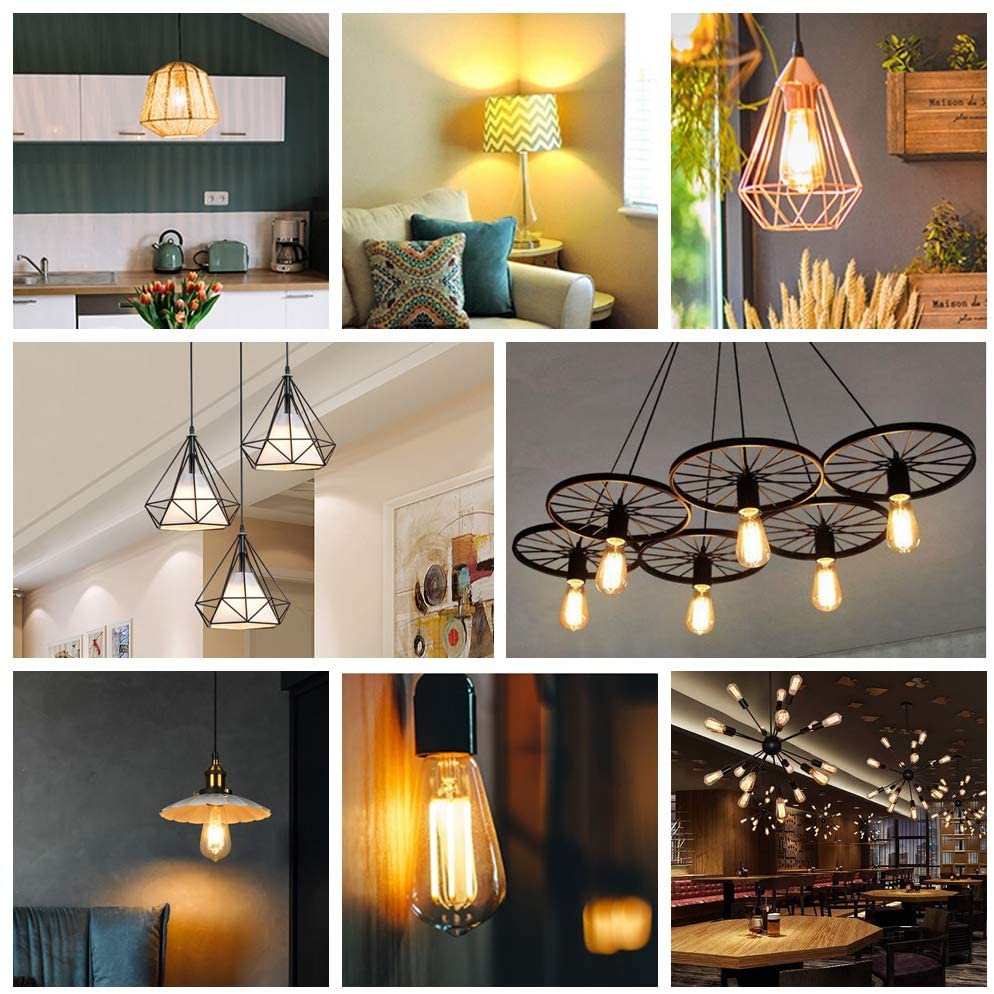 Relax Body and Soul: 2300K temperature provides a warm and tranquil atmosphere, ideally suited for relaxing at home and atmospheric lighting in restaurants, pubs and bars.
Save Money and Help Planet: LED Bulb Filament low energy consumption 8 kWh/1000h at 806 lumens – equivalent to 60W. Saves up to 80% energy as compared to non-LED bulbs.
See the World as it is Meant to be Seen: Wide angle (180°) and high color rendering 80+ gives vibrant and true colors without glare.
Don't Wait: No warm-up time with immediate illumination at 100% brightness when switched on.
Blaupunkt Assurance: Enjoy long life service of up to 50,000 hours and guarantee of up to 3 years with fast and efficient customer service, so go ahead and buy with peace of mind!
Create the Optimal Mood
Dimmable Blaupunkt Filament LED bulb E27 ST64 8W amber glass is a decorative model distinguished by its designer shape. The amber color of the bulb gives the Blaupunkt bulb a unique character. It will fit well with the Scandinavian, loft, vintage or retro atmosphere. The LED filaments inside the bulb resemble traditional incandescent filaments. The amber bulb gives a warm light color (2300 K). The Blaupunkt ST64 filament bulb has the popular E27 thread, consumes only 8 W of power and is a replacement for older bulbs with a power of up to 60 W.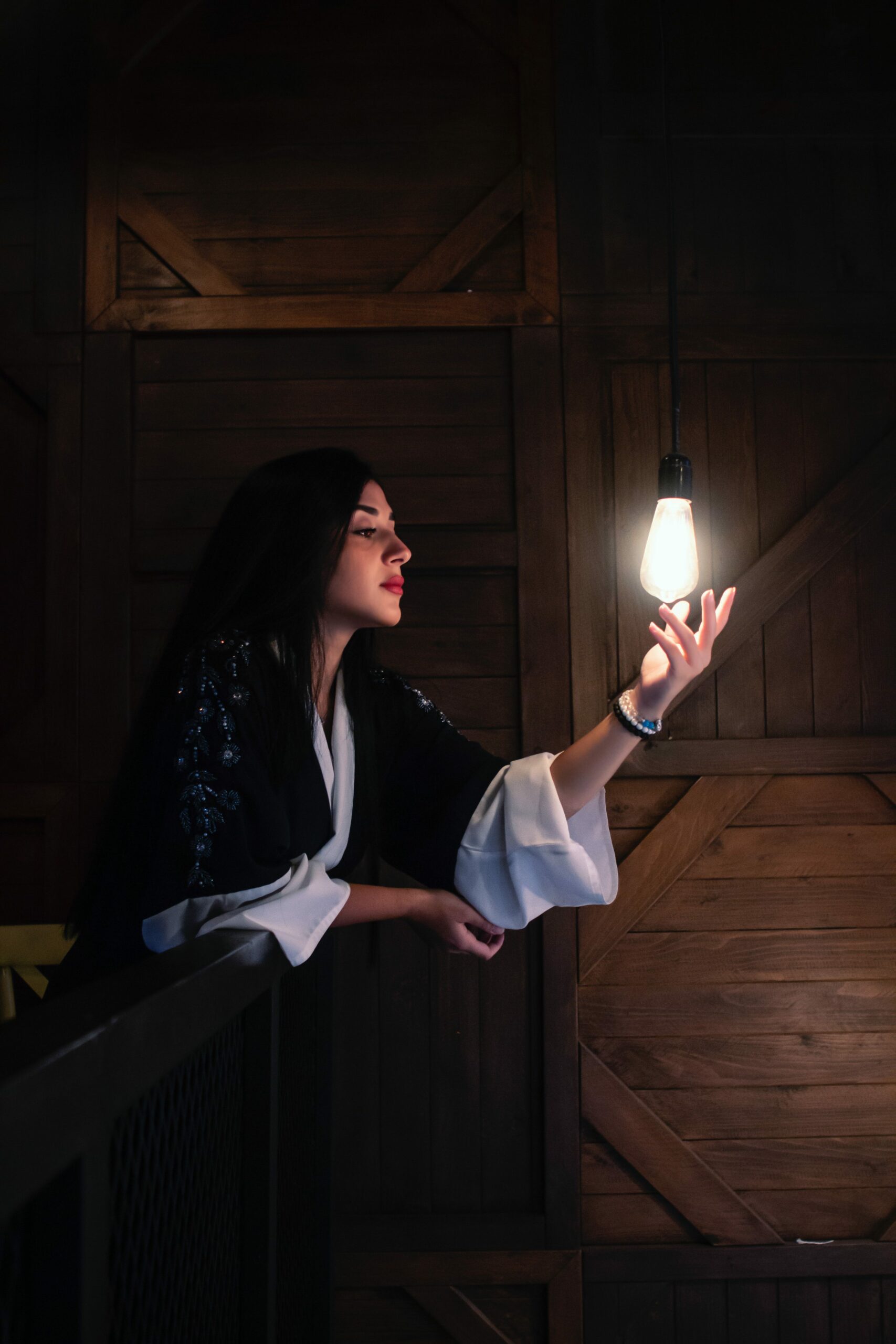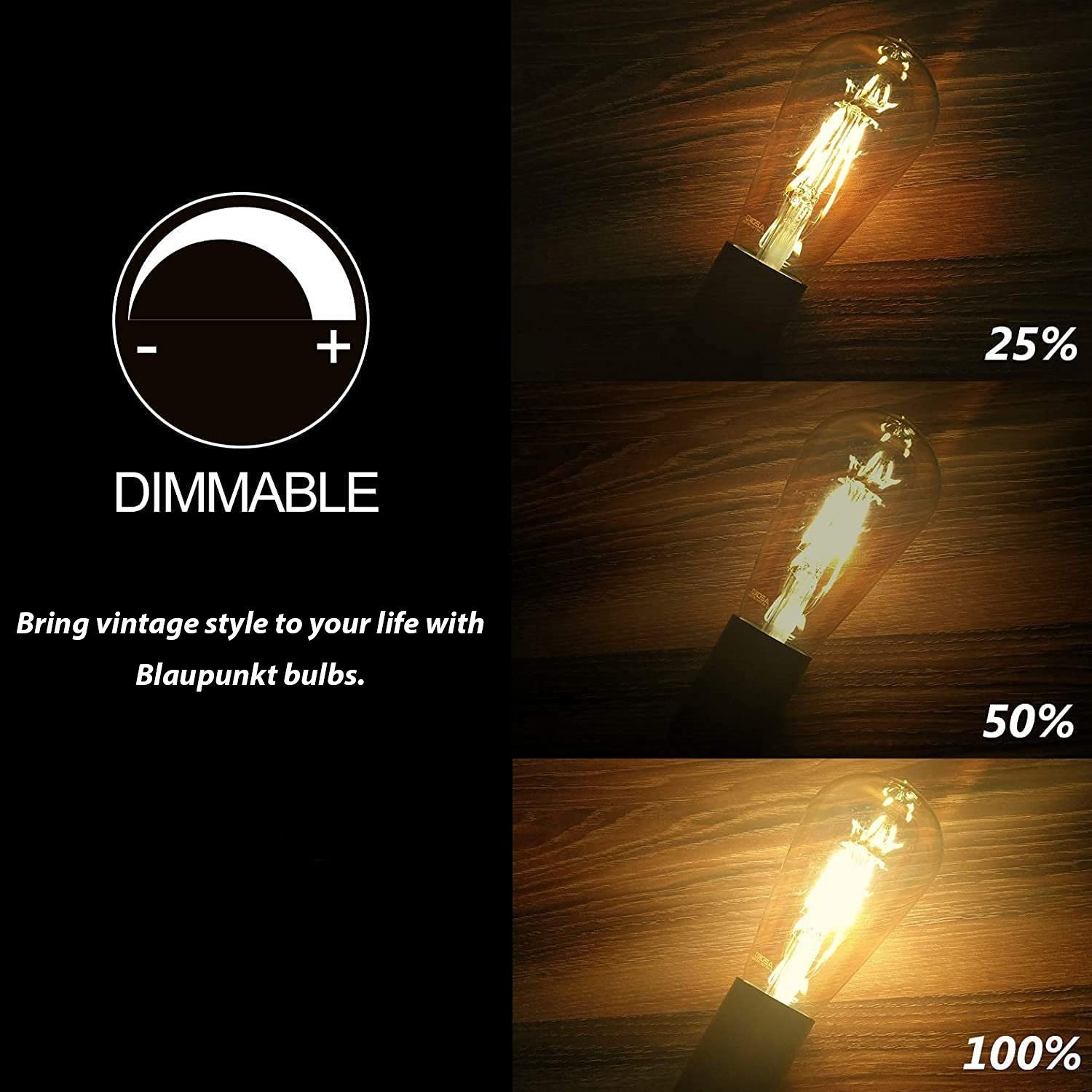 Bring Colors to Life
The Filament bulb Blaupunkt ST64 looks best in luminaires with open light sources with high luminous flux of 806 lumens. High-quality light-emitting diodes used in bulbs of the German brand are a guarantee of high efficiency and long durability of the LED bulb. You can avoid the cost of frequent bulb replacement and high electricity bills. All you need to do is choose an energy-saving light source. A service life of 50,000 hours will allow you to enjoy high quality light for a long time. Click here to see Blaupunkt LED products.
WHY US?
Over 10 years of experience in the industry – knowledge and experience gained on the european market are the advantages thanks to which we only offer selected LED lighting, high-quality Blaupunkt lighting.
Product customization – our goal is the best response to customer needs. We provide the possibility of personalizing products, i.e. adjusting various parameters of products to individual requirements. Customization gives you complete freedom to choose the desired options. What's more, it gives a feeling of greater control over the planned investment.
Advice and support – we are happy to share our knowledge and support at every stage of the project. Our offer includes order handling, advisory services and consultations in the selection of LED lighting.
Warehouse – safe storage of over 100 thousand products. Large storage area allows for efficient service from individual clients, through small and medium-sized companies to enterprises and goverment sector.
B2B platform – convenient cooperation in comfortable conditions via the B2B platform is a specially developed system and our strategic channel for contact and sales of Blaupunkt LED lighting.
Write to Us: contact@blaupunkt-lighting.eu
Specifications
Lifetime – 50,000h
Fixing – E27
Tightness class – IP20
Material of execution – aluminum, plastic
Color Temperature – Warm White
Certificates – CE, RoHS
Dimensions [cm] – 6,4 cm x 14,3 cm
Power – 8W
Bulb replacement – 60W
Beam angle – 180°
Supply Voltage – 220 ~ 240 V 50/60 Hz
Lumens – 806 lm
Dimmable – Yes
Downloads