VCC301
Vacuum Cleaner VCC301
Enjoy clean floor, furniture and fresh air in your home!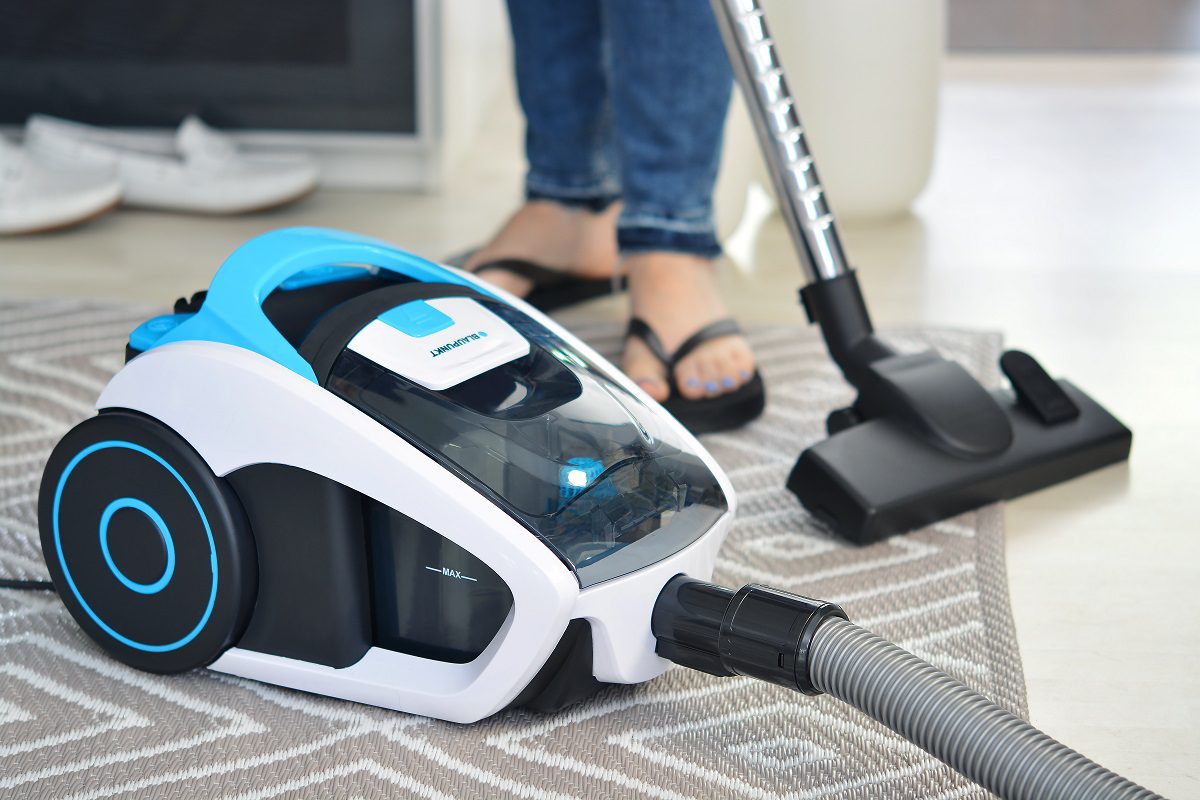 Vacuum cleaners are a standard item in every modern home nowadays. They not only help to keep clean and fresh air but, most importantly , they are beneficial for our health by getting rid of dust, mites, and other contaminants. The allergy-friendly manufacturer has equipped the device with the best filters, that are often a key factor in choosing a vacuum cleaner.
Blaupunkt VCC301 was designed to provide user with opportunity to enjoy clean flooring and furniture and fresh air at home.
UNIQUE FUNCTIONALITY
DpuHF class A means that on a hard floor, the vacuum cleaner will collect up to 111% of the dust. This amount is usually higher than 100% in the most effective models, because during vacuuming the device also collects dust that surrounds the nozzle-brush.
Performance of class A on hard floors is the highest value among home models.
Second indication, DpuC class D, shows efficiency of the device during vacuuming carpets. The VCC301 collects up to 83% of dust from all types of carpets and floor coverings, that will gain appreciation especially by those who are allergic to dust, because carpets are always the place where most allergens are collected.
Quality of VCC301 vacuum cleaner shows not only how well it collects dust, but also how fresh is the air that comes out of the outlet. Reemission class A guarantees dust-free air in cleaned room.
For even better efficiency, device was equipped with the most advanced HEPA H13 filter that holds up to 99.97% of impurities, including dust, bacteria, protozoa cells and fungi.
The VCC 301 assures that the air that comes out of the vacuum is as clean and safe as possibly it can to provide safety for you and your loved ones.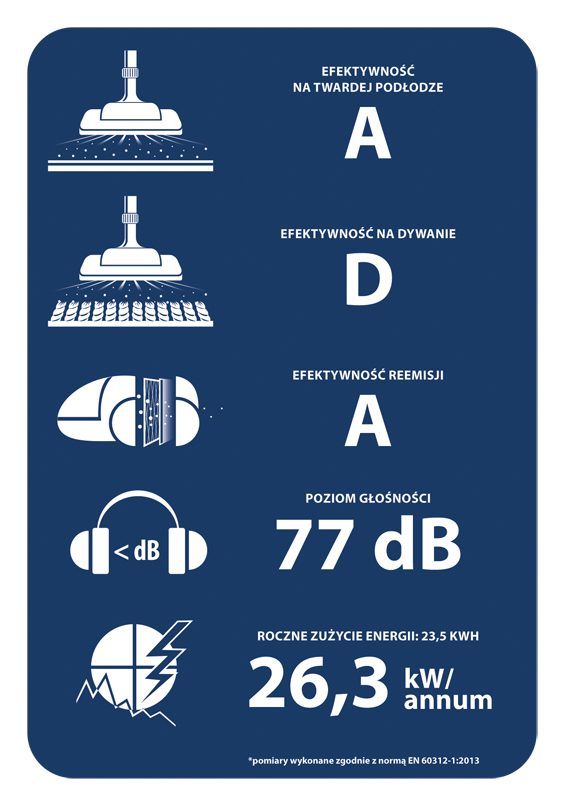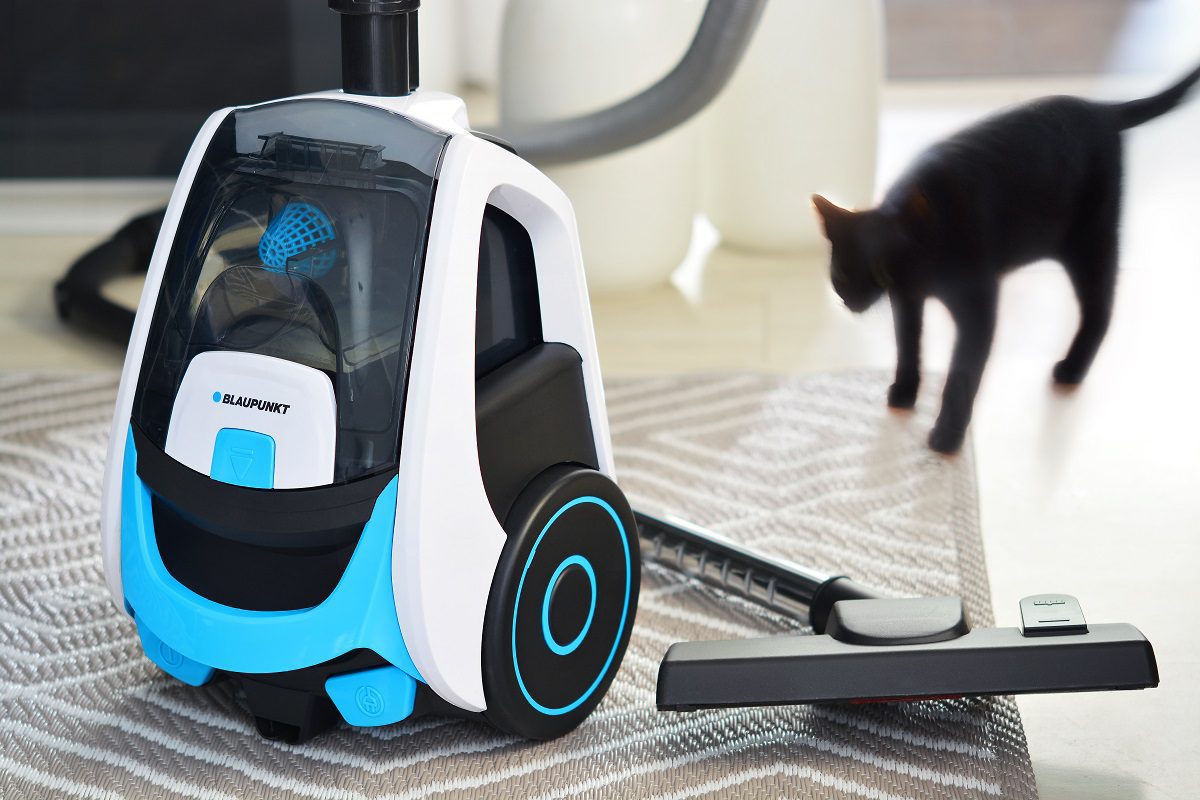 CONVENIENCE OF USE
Bagless vacuum cleaner VCC301 bases its action on swirling air, called cyclone. In a tank to where dirty air enters, dust is separated by centrifugal force and the purified air, after passing through the special filters, is directed towards the outlet at the rear of the device. The dust container holds up to 1.2 l, that guarantees you that you do not need to empty it frequently, while maintaining the small dimensions of the device.
Another useful feature is a cable reel that is 5m long that allows you to clean even hard-to-reach places such as the ceiling. The ability to park the unit vertically and horizontally will ensure trouble-free storage of the vacuum cleaner. Loudness of less than 78dB will make vacuuming less unpleasant for people that live in the house. In addition, on the handle you can adjust the suction power to the surface being cleaned. Comfort of use is complemented by overheating protection.
ADDITIONAL ACCESSORIES
There are many handy accessories included in the set that will allow you accurate and convenient cleaning: universal brush nozzle, brush nozzle, hair brush, and crevice nozzle for narrow spaces. The metal telescopic tube will reduce the need to bend over and allow you to reach high places.
Additional replacement filter set (2 EPA H12 inlet, 1 outlet HEPA H13) ACC016. Recommended intake filter every 2-4 months, exhaust filter every 4-8 months (depending on the intensity of use of the vacuum cleaner).
The Blaupunkt VCC301 vacuum cleaner a high-quality product that, thanks to its modern design, will appeal to the most demanding users who value functionality and aesthetics, for whom visual aspects are important as much as vacuums efficiency.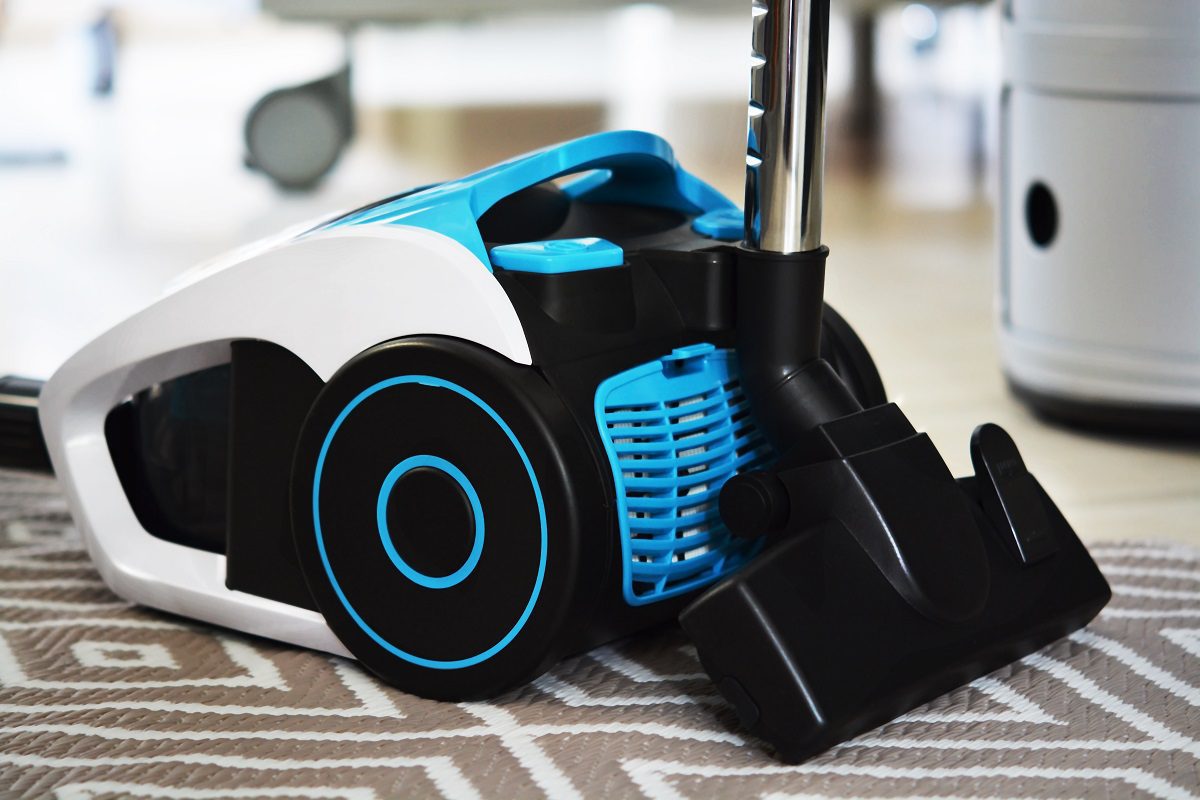 Specifications
Dust container capacity: 1.2 l
Power cord rewind, cord length 5 m
Suction power regulation in the hose
Filter HEPA H13
Overheat protection
Vertical and horizontal parking
DpuHF A, DpuC D,
Reemission: A
Noise below 77 dB
Accessories: Multi-purpose floor brush, small brush nozzle, crevice tool, and metal telescopic tube
Power supply 220-240 V ~ 50 Hz, power: 700 W
Unit size: 34.2 x 25.2 x 22.2 cm
Weight: 4.6 kg
EAN code: 5901750501739
Downloads