WS40WH
Weather station WS40WH
Weather station with three wireless temperature and humidity sensors, absolute barometric pressure reading, temperature and humidity trend indicator, clock and calendar with alarm function and moon phase display.

Climate under control… quadruple control!
Thanks to the WS40WH multifunctional weather station display, you can control the readings from the four temperature and humidity sensors at the same time. One sensor is built into the weather station, the other three can be placed where you want: outdoors, in the bedroom or in the garage. Thanks to the LCD displays in the sensors, you can also read the data in their vicinity.
Thermometer and hygrometer are always at hand!
The Blaupunkt WS40WH weather station has a built-in sensor for temperature and humidity measurement inside the room where it is installed. The additional three wireless sensors with LCD displays can measure outdoors or in any chosen location. The measurement data for both temperature and humidity is constantly updated and displayed on the integrated LCD display*. In addition, the device has a memory of the lowest and highest values, both temperature and humidity, which reset automatically when the next day begins. Temperature values can be displayed in degrees Celsius or degrees Fahrenheit.
Discover the trends around you… the weather trends of course.
In addition to reading temperature and humidity, trend indicators of these parameters are available. The arrows appearing on the screen indicate how the measured values have changed over the last hour. The arrow pointing up indicates that a parameter has increased its value, when pointing down, it indicates a decrease in the parameter value, and the horizontal arrow indicates that a given value has not changed.
You do not have to wait for the weather forecast – just look at our station!
A graphical weather forecast for the next 12-24 hours is also available on the WS40WH weather station display. Note that this forecast is calculated based on variations in atmospheric pressure values and has limited accuracy, however it is a useful tool for estimating weather conditions for the next hours at a specific location. Depending on the prevailing conditions, pictograms are available to forecast sunny weather, partial cloud cover, cloud cover, rain or snow.

Pressure drops – coffee time!
The WS40WH weather station has a built-in sensor to measure absolute atmospheric pressure, and the reading data appears on the display. If you feel a sudden drop in energy or you are a meteopath, you just need to look at the display and if the pressure is low, it is a sign that you need to prepare yourself a cup of coffee.
Note that this weather station reads absolute atmospheric pressure which may differ from the official weather forecasts. The reason for this difference is that the relative pressure given in the official weather forecasts is reduced to sea level. The absolute pressure indicated in this model is the pressure measured at a given location at an appropriate altitude.
Turn up the specs!
The WS40WH weather station has been accurately calibrated in our factory, and the weather forecast will automatically calibrate during the first two weeks of use. However, if you want to manually correct it, you can do so while performing the presets.
What time and what day is it today?
There is also a clock on the LCD screen, which can display the current time in both 12- and 24-hour formats. Thanks to this, the station is also a useful clock. A calendar is also available next to the clock to let you know the current day of the month and what day of the week it is. The names of the days of the week are available in seven languages (DE, EN, FR, IT, SP, DU and DA) and can be changed when setting the calendar.

Hello! Wake up!
The WS40WH weather station also has an alarm clock function, so if you need to wake up early, just set the time you want the alarm to turn on and sleep calmly. The alarm will turn on automatically and if you want to sleep even longer, turn on the snooze function and the alarm will be postponed for 5 minutes. The alarm clock has a sound that lasts for 2 minutes – it is long enough to wake even the biggest sleepyhead. You can also use the alarm not only to wake up – it can work as a reminder of some important things during the day that you do not want to miss.
What moon phase is it?
In the WS40WH weather station, an indicator of the current phases of the moon is available. If you are home-grown astrologist or believe that the phases of the moon affect the quality of your sleep or your emotional life, this feature will be very useful to you. One look at the display and you already know if there is a new moon or a full moon today!
All on one screen!
The WS40WH model is unique in that indications from all four sensors are available simultaneously on one screen. You can see exactly what the readings from the individual sensors are. This is very convenient. Besides, the colour LCD display is very clear and extremely legible.
LCD display! Dim it as you need.
The WS40WH weather station display has a dimming function, and no, it does not cheat, it only changes the brightness of the backlight and, importantly, it does not do it on its own. You decide when to dim the display so that it does not glare or to make it more visible. In addition, it has an automatic programming function when to dim or when to brighten the display. You simply set the time you usually go to bed and wake up at, and the display will dim and brighten accordingly so as not to interfere with your sleep. Isn't it useful?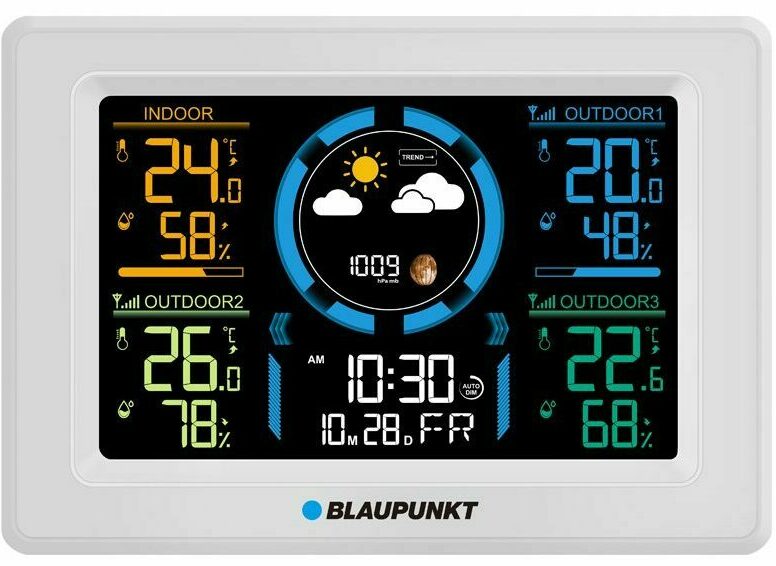 Power supply.
The WS40WH weather station is connected to the socket with the supplied 5 V, 1200 mA power adapter, and the wireless external sensors with each of the two AA batteries included – a total of 6 of them. In order for the station to remember the settings during a power outage you need to buy 3 AA batteries and install them in the battery compartment at the back of the device! The station can operate without them, but only after a power outage you will have to reenter the appropriate settings. These optional batteries can also serve as an alternative power source when you take the station to a place where you do not have access to power. When battery-operated, the display will automatically go out to save batteries.
In addition, on the LCD screen there are indicators of the battery level of all external sensors, so that you know when the batteries are running out and you can replace them in time.
Standing or hanging?
Do as you like best. The station housing is designed so that the entire device can be placed on a table, desk or windowsill, as well as hung on the wall, because a hook hole is available in the back of it, and the power cord is located in a special compartment not to disturb the installation. The wireless sensor included also has the standing and hanging option. Remember to place the sensor where it will be sheltered from wind and rain and shaded, without direct sunlight, which can adversely affect the reading of temperature and humidity values.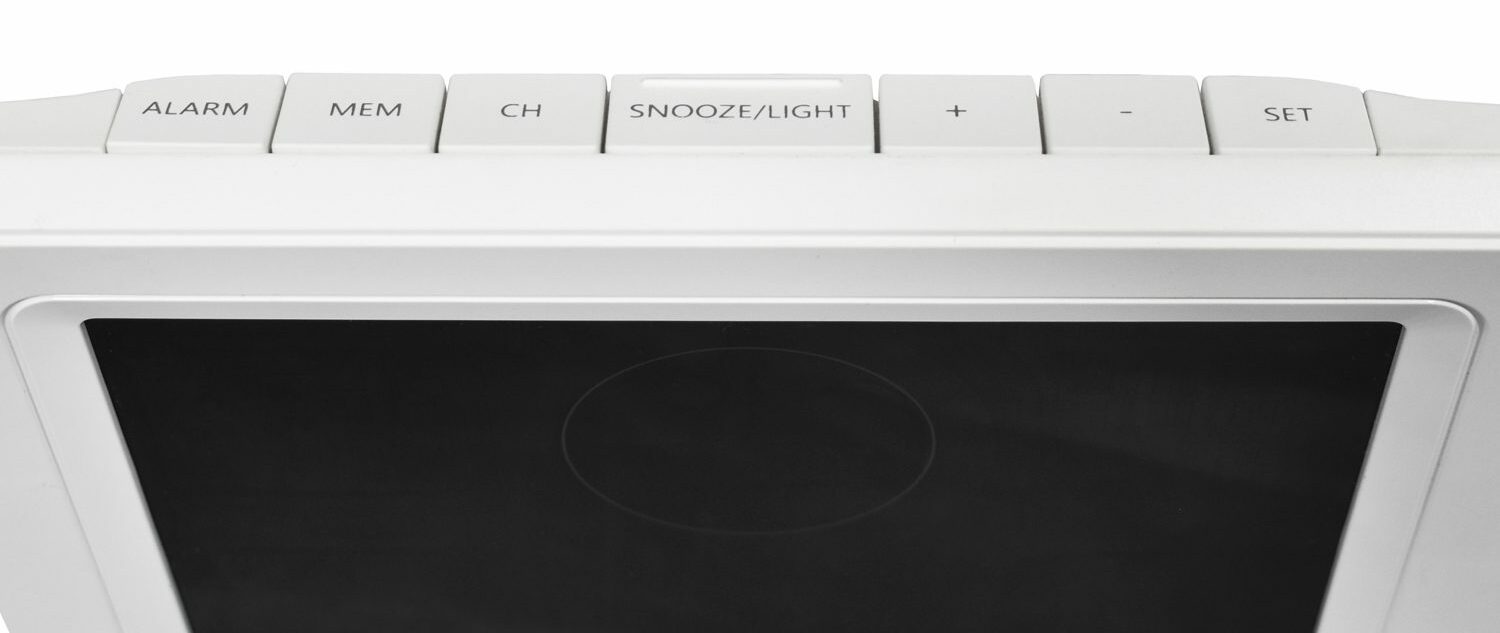 Features:
3 sensors with LCD display included – useful for monitoring temperature and humidity in different rooms or outdoors
Thermometer and hygrometer – for measurement of current temperature and humidity both, indoors and outdoors.
Absolute atmospheric pressure indicator – useful for meteopaths and people sensitive to pressure fluctuations
Memory of daily measurements of the highest and lowest temperature and humidity values
Temperature and humidity trend indicator – for indication of fluctuations in measurement values at an hourly interval
Graphical weather forecast – with pictograms announcing sunny weather, partial cloud cover, cloud cover, rain and snow.
Clock and calendar – 12/24 hour display format and days of the week in 7 languages
Colour LCD display with dimensions of 126×82 mm
Automatic display dimming function – useful for automatic dimming at night
Alarm with snooze function – for waking up or reminding of important events
Moon phase indicator – for amateurs of astrology and more
Mains and optional battery power supply – 5 V, 1200 mA power adapter provided (3  x AA battery power supply – not included)
Hanging or standing installation
Measurement ranges:
Indoor temperature range: -10 ~+50℃ / 14 ~122℉.
Outdoor temperature range: -30~+60℃ / -22~140℉.
Internal and external humidity measurement range: 1 %–99 %
Dimensions and weights:
Unit dimensions: 175 x 31 x 122 mm
Display dimensions: 128 x 80 mm
Unit net weight: 0.238 kg
Sensor dimensions: 43 x 22 x 110 mm
Dimensions of the sensor display: 25 x 17 mm
Sensor net weight: 0.05 kg
Package content:
Weather station – 1 pc
Wireless external sensor – 3 pc
AA batteries – 6 pcs
Mains power supply – 1 pc
User manual – 1 pc (languages: EN, PL, CS, SK, LT, LV, ET, HU, BG, RO, EL, HR, SL)
Warranty certificate – 1 pc
* Accuracy of measurements: temperature: +/- 1°C in the range from 0 to 50°C and +/- 1.5°C outside this range | humidity: +/- 5% in the range from 40 to 70% and 8% outside this range.
Specifications
Features and specification:
Indoor/outdoor temperature and humidity display*
Temperature and humidity trend indication
Absolute barometric pressure display
Weather forecast for the next 12-24 hours
Calibration of weather forecast
Clock (12/24 hour format) and calendar
Alarm with snooze function
Moon phase indicator
Wireless outdoor sensor with LCD display – 3 pcs in the set
Displaying information from three external sensors simultaneously
Color LCD display with dimmer and programmable automatic dimming function
Daily max and min history temperature and humidity measurement values
Main unit power source: 5 V 1200 mA power adapter (included)
Wireless sensor power source: 2 x 1.5 V AA batteries (included)
Backup of settings and optional power supply (AA battery – 3 pcs.) – not included
Low battery indicator for the device and three external sensors
Possibility to stand or hang
Device dimensions: 175 x 31 x 122 mm
Display dimensions: 128 x 80 mm
Device net weight: 0.238 kg
Sensor dimensions: 43 x 22 x 110 mm
Sensor LCD dimensions: 25 x 17 mm
Sensor net weight: 0.05 kg
EAN Code: 5901750506079
* Measurement accuracy: temperature: +/- 1 ℃ in the range from 0 to 50 ℃ and +/- 1.5 ℃ outside this range | humidity: +/- 5% in the range from 40 to 70% and 8% outside this range.
Downloads