Hamburg 990 DAB
Hamburg 990 DAB
The Hamburg 990 DAB combines high-quality SafeDrive design down to the last detail, a highly attractive, Android-based operating concept and a breathtaking range of functions.
ANDROID SOPHISTICATION
The Hamburg 990 DAB characterized by its "easy-to-use" (SafeDrive) styling, an exciting, Android-based Blaupunkt user interface and breathtaking functional opportunities. It sports a very large 10.1-inch capacitive display for perfect in-car use and combines high-quality tuner RDS performance, built-in DAB+, a huge variety of different entertainment options and the connection of many types of portable media including smartphones. With Blaupunkt Mirror Mode you can easily connect your phone. Simply mirror the phone screen and enjoy all your individual content and Apps. Or just use your phone as mobile hotspot, controlled by the radio – although the Hamburg 990 DAB even does not need a phone to browse the web with the direct Wi-Fi connection to any available hotspot. But no matter what you are looking for, the Hamburg 990 DAB will meet your personal car Multimedia needs.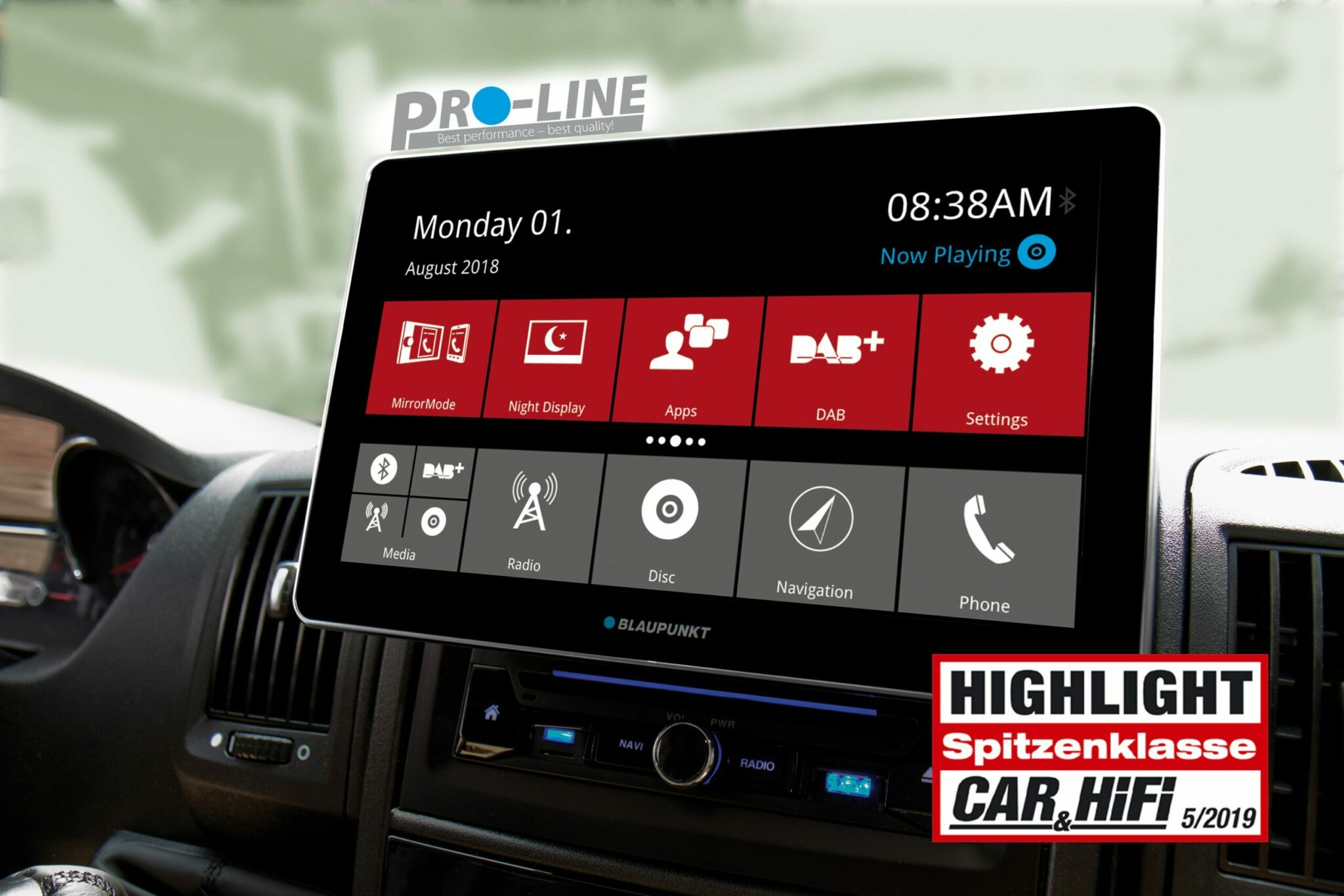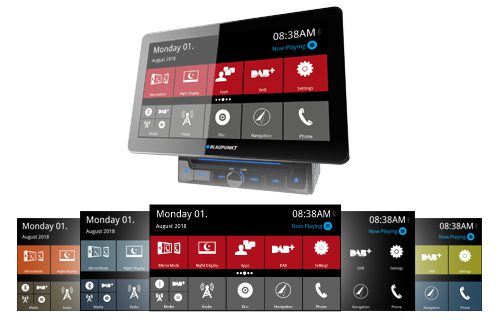 GRAPHICAL INTERFACE
With Hamburg 990 DAB, the looks of your radio will never be the same again. Base on Android platform, Hamburg 990 DAB is capable to change its look to suit your mood and style. You can even upload your own picture and use it as a wallpaper and change icon color in the settings. 16 millions colors: it is your choice !
NAVIGATION
With the integrated navigation you can reach any destination comfortably, quickly and relaxed. Or make a spontaneous detour to interesting places that the Hamburg 990 DAB will suggest on your route, if you wish. Everything is very simple and at the touch of a finger.
Navigation variants:
Hamburg 990 DAB (NAV CAR) Europe car navigation with 24 months map update and online traffic
Hamburg 990 DAB (NAV TRUCK/CAMPING) Europe truck camper navigation with 24 months map update and online traffic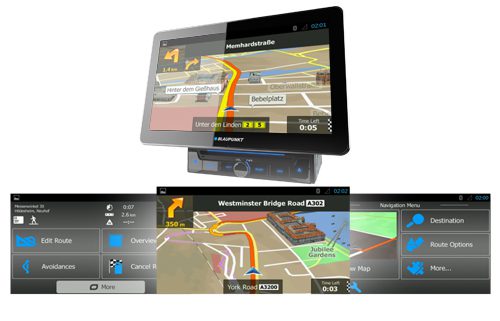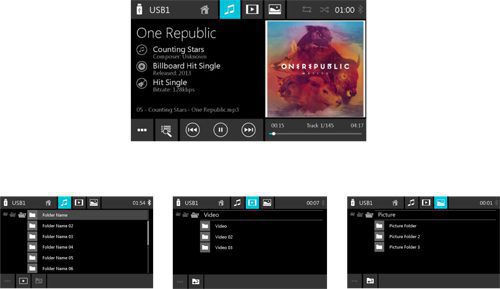 MEDIA PLAYER
Digital data has gain much popularity in these few decades and supporting these format is a must-have for every device.  But the range of supported media makes the difference.  The Hamburg 990 DAB plays audio, image and video formats not only from disc but also straight from micro SDHC card or via one of the USB ports.  The maximum number of files on the specific media is at least 40.000 files. Enjoy the intuitive and fast browsing though the folders and files, or by criteria if the ID3 tags come with the media. And last, but certainly not least, you can also directly control the iPod as well as your MP3 archive on your Android smartphone.
SOUND SETTING
The new graphical interface makes the sound tuning easy and exact to adjust with the 10-band parametric equalizer. But if "playing with frequencies is not your thing" just select through the sound preset selection from Pop, Rock, Electro, Jazz and Classic to suit your needs and taste.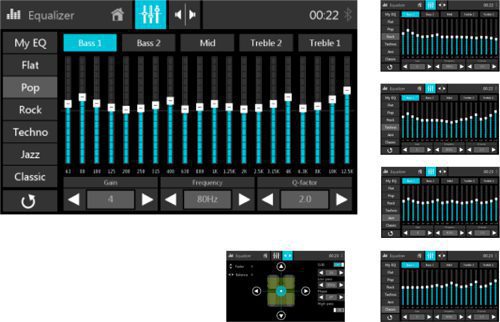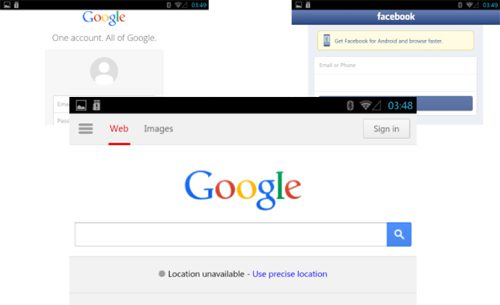 INTERNET BROWSING
Tired of driving from a long distance trip, pull over and enjoy the web browsing inside your parking car. With the access to the Internet via Wi-Fi you're a step away to access all contents in the Internet. Checking your important mail, the latest news or the weather forecast. All this just by a touch on the large 10.1-inch screen.
ANALOG RADIO
With the high-end Blaupunkt CODEM IV tuner generation the Hamburg 990 DAB is also uncompromising in terms of its radio quality and sets new standards for brilliant reception. See for yourself, one's own experience says more than thousand words.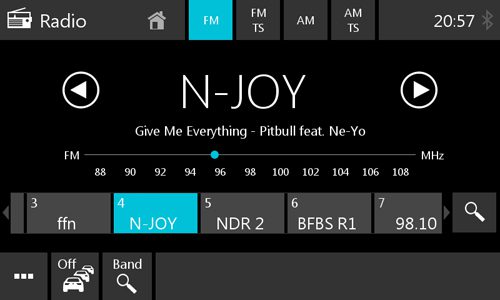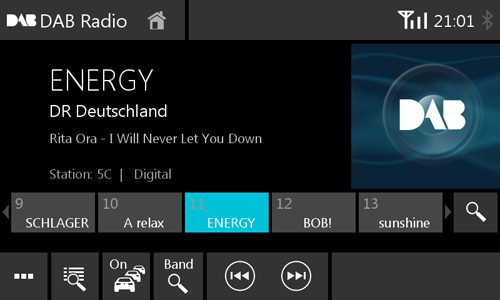 DIGITAL RADIO
With the built-in DAB+ twin-tuner you can listen to high-quality digital radio while driving. Enjoy the intuitive and fast browsing though the available service ensembles, or if do not care about the broadcasting stations just browse through the alphabetical list of all programmes.
BLUETOOTH TELEPHONY
Once the entire mobile phone book with up to 1.000 personal entries is synchronized with Hamburg 990 DAB, nothing stops you from convenient phoning via your car's speakers. For best quality the Hamburg 990 DAB offers you the opportunity of choosing between the integrated or the external microphone with its perfect positioning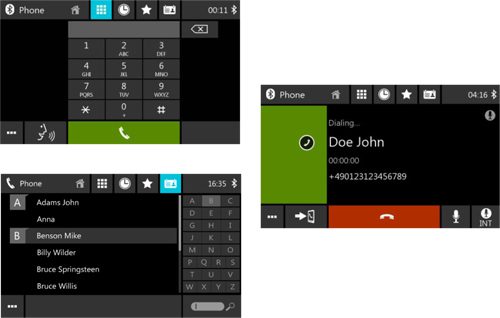 SETTING OPTIONS
Breathtaking functional opportunities does not mean difficult to use. The settings menus are clearly arranged, attractively designed and, most importantly, very easy to handle.
OPERATING CONCEPT
Optimal ease of use is an important factor for safety while driving. Especially the volume control and the switching from radio to navigation or calling the main menu must be quickly and easily accessible. Thanks to its hardkey buttons (home, navigation, radio) and the easily accessible volume control, the Blaupunkt Hamburg 990 DAB can be easily and safely operated while driving.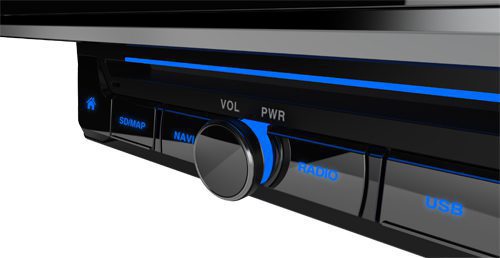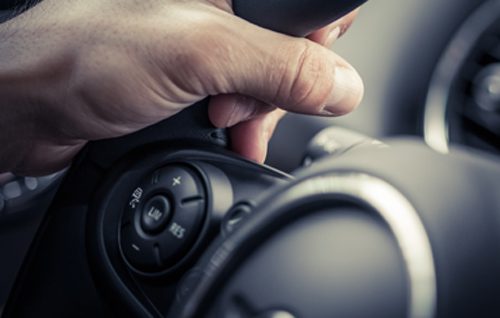 STEERING WHEEL CONTROL
If your vehicle is equipped with steering wheel buttons, you can use it in conjunction with the Blaupunkt Hamburg 990 DAB via the SWC (Steering Wheel Control). Thanks to the SWC function, the steering wheel remote control takes over the most important functions such as volume, mute or Bluetooth of the radio. Another security feature for the Blaupunkt SafeDrive philosophy.
PERMANENT MEMORY
Thanks the integrated Permanent Memory the Hamburg 990 DAB keeps the memory of the user settings and preset stations when main power is down.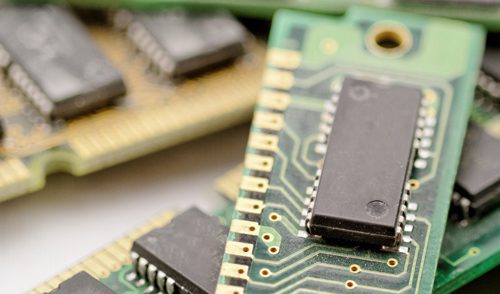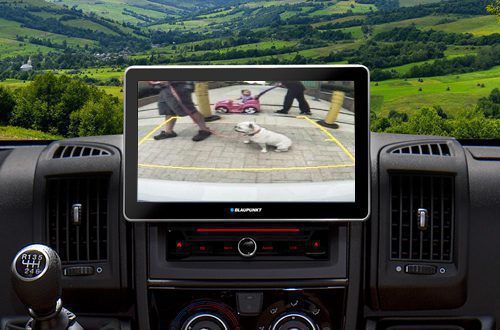 REAR VIEW CAMERA
Parking can be a precision job. The Hamburg 990 DAB is equipped with two camera inputs (CAM1 Audio/Video) and CAM2 (Video). So you always keep the overview and nothing should go wrong anymore.
AUDIO / VIDEO INPUT
Flexibility is furthermore provided in analogue connection. The two rear AV-Inputs (AV-IN 1 & AV-IN 2) can realize permanent connection of external sources.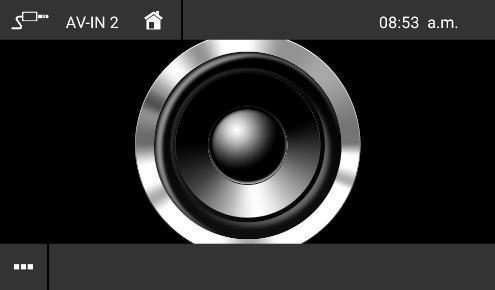 Especificaciones
System
Operating System Android 6.0
Intuitive Blaupunkt User Interface
Radio
CODEM IV high-end tuner
FM (RDS), AM tuner
DAB+ built-in (Twin-Tuner)
Display
Large 10.1" capacitive multi-touch screen
Resolution 1024 x 600 pixels
Navigation
Hamburg 990 DAB: Navigation Ready
Hamburg 990 DAB NAV CAR variant: Europe car navigation (24 months map update and online traffic)
Hamburg 990 DAB NAV TRUCK variant: Europe truck navigation (24 months map update and online traffic)
Data carrier
DVD, VCD, CD, CD-ROM, USB, SDHC, SDXC
Media player
Audio, Video, Picture from USB/SDHC/Disc
iPod/iPhone control via USB
Audio formats MP3, OGG, FLAC, ACC, APE
Mirror Mode
Mirror & control of smart phone via radio
For iPhone and Android smart phones
Wi-Fi / INTERNET ACCESS
Wi-Fi module for online acccess built-in
Bluetooth
Built-in Bluetooth 4.1
(HFP, PBAP, A2DP, SPP, HID, RFCOMM, AVRCP)
Built-in microphone + external mic connection
Inputs / Outputs
Front & rear USB
Front SDHC slot
2x rear A/V input
Rear view camera input (Audio/Video)
Steering Wheel Control input
HDMI input
Equalizer / Amplifier
10-band parametric equalizer
4-channel pre-amplifier plus Sub-out
4 x 50-Watt Max. power
General
Permanent memory
IR remote control included
DAB+ onglass antenna included
SafeDrive remote controller SDC 2.0 optional
SYSTEM
Operating system: Android 6.0
CPU: Quad-Core processor
RAM: DDR3 SDRAM 2GB
Built-in Flash: 16GB
User interface: Blaupunkt dynamic graphic user interface
Permanent memory: yes (user settings, presets etc.)
DISPLAY
Technology: Digital
Type: Capacitive multi-touch screen control
Screen size: 10.1″
Resolution: VWGA 1024 x 600 pixels
Touchscreen: yes
Brightness adjustable: yes
Display switch off: yes (selectable via Night Display APP)
Clock / Date display: yes (auto sync via GPS)
Clock mode: 24 / 12 hoursHome screen folder creation: yes (up to 6 apps by folder)
Wallpaper options: yes (still, motion options, picture upload)
Radio system languages: Czech, English, French, German, Hebrew, Italian, Polish, Spanish, Turkish, Norwegian, Russian
ANALOG RADIO
Type of tune: High-end CODEM IV
Tuner region: Europe
Wave bands: FM, AM
Radio Data System (RDS): AF, PS, PTY, TA, RT
Travelstoreyes: (FM, AM)
Band Scan / Preset Scan: yes / yes
Search via frequency: yes
Select via frequency scale: yes
Station memory: 30
Sensitivity: lo/dx
Frequency response (Hz) -3dB: 50 – 15.000
DIGITAL RADIO
DAB-ready: yes (built-in twin-tuner)
DAB Band III / L-band: yes / no
Service update: yes (auto/manual)
Manual ensemble search: yes
Station memory: 30
Ensemble browsing: yes
Station browsing: yes
Band Scan / Preset Scan: yes / yes
Service link DAB-FM: yes
Radio text: yes
Programme types (PTY): yes
Traffic announcement: yes (via FM RDS TA)
NAVIGATION
Hamburg 990 DAB: Navigation Ready
Hamburg 990 DAB NAV CAR variant: Europe car navigation (24 months map update and online traffic)
Hamburg 990 DAB NAV TRUCK variant: Europe truck navigation (24 months map update and online traffic)
DATA CARRIER
DVD: DVD, +/-R, +/-RW, -ROM
VCD: yes
CD: CD-DA, -ROM, -R/-RW
Type disc-drive: Automatic loading
Shock proof memory: yes (with buffer < 12 S)
Frequency response (Hz) -3dB: 20 – 20.000
USB-removable storage: USB 2.0 compatible
Memory cards: microSDHC, SD, SDXC (up to 32GB)
Wi-Fi / INTERNET ACCESS
Internet access: yes (via Wi-Fi)
Built-in Wi-Fi module: yes
Wi-Fi hotspot: no
DVD PLAYER
Track up / down: yes / yes
Fast forward / fast rewind: yes / yes
Position via progress bar: yes
Repeat chapter / title: yes / yes
Play / pause / stop / resume: yes / yes / yes / yes
Chapter skip / search: yes / yes
Last position memory: yes
Root menu: yes
Setup: yes
Title menu: yes
Sub-titles / audio language: yes / yes
Zoom / angle: yes / yes
Dolby Digital 2.0: yes
BLUETOOTH
Supported version: Bluetooth 4.1
Supported profiles: HFP, PBAP, A2DP, AVRCP, SPP, HID, RFCOMM
Pairing (number of devices): 5
Pairing code: 0000 (default)
Hands-free calling: via micro + radio speakers
Voice dial: no
Key functions: accept / hang up / reject call
Phone book access: yes (up to 1.500 entries by phone)
History call lists: yes (missed, dialled, received calls)
Auto synchronisation: yes (on/off)
Auto connect / Auto answer: yes (on/off) / yes (on/off)
Favourites: yes (manually)
2nd call handling: no
Twin Connect: no
Microphones: 2 (built-in + external rear micro)
MEDIA PLAYER
Video playback fle formats: AVI, MP4, MPEG, RM, FLV, MPG, ASF/WMV, MKV, OGM, TS
DivX® video format: no
Picture playback formats: JPEG, JPG
Audio playback formats MP3, AAC, WAV, FLAC, APE, AC3
MP3 Title display: ID3-tag (versions 1 and 2), file/folder names
Album art display: yes
ID3-tag criteria display: Artist, album, song, composer, year of release, file bitrate
Mix: yes (all, folder)
Repeat: yes (all, folder, track)
Fast forward / fast rewind: yes (via progress bar)
Audio book speed variable: yes (for iPod, iPhone)
Bit rate MP3: 32 – 320 kBit/s
Variable bit rates: yes
Number of files on MSD: up to ~ 40.000 files, depending on folder/file structure
iPod / iPhone control via USB: yes
iPod via front / rear USB: yes / yes
iPod video: no
Works with Pandora®: no
SiriusXM ready: no
EQUALIZER
Number of bands: 10
Model: parametric
Type: analogue
Variable Q-factor by band: no
Subwoofer switchable: no
Variable subwoofer gain: yes
Variable Subwoofer phase: no
Variable high-pass filter : no
Variable low-pass filter: yes (55/85/120/150/180 Hz)
Sound presets: My EQ, Flat, Pop, Rock, Electro, Jazz, Classic
Balance / fader: yes / yes
Source specific volume: DVD, Radio, A/V1, A/V2, DAB, Media
MIRROR MODE
Smart phone mirroring: yes (easy connection via USB*)
Smart phone touch control: yes (Android 2 way control, iPhone one way control)
AMPLIFIER
Number of channels: 4
Max. power: 4 x 50 Watt
Sinus power at 14.4 V: 4 x 22 Watt
INPUTS
Antenna: 3 (Radio, DAB, GPS)
DAB: built-in
DVB-T: no
SiriusXM: no
USB: USB 1: Front USB (standard A-type), USB 2: Rear USB (standard A-type)
Memory cards: front, microSDHC, microSD, micro SDXC
HDMI input: yes (rear, full size Type A)
Audio / Video (analogue): AV-In 1: Rear A/V (3.5 mm jack, 0,5V), AV-In 2: Rear A/V (RCA type)
Rear view Audio/Video CAM1: yes (RCA) with remote signal out
Rear view Video CAM2: yes (RCA) with remote signal out
Reverse gear: yes
Handbrake: yes
External hand-free micro: yes (3.5 mm jack, rear)
IR remote control: yes (front panel)
Steering wheel remote control: yes (SWC, rear, analogue, 3.5 mm jack, programmable via menu)
Power supply: yes (ISO)
OUTPUTS
Video / Audio out: yes (RCA)
4-channel preamp out: yes (RCA, 3V)
Subwoofer: yes (RCA)
Audio channels: 4
GENERAL
Installation: 2-DIN slot
Operating voltage: 10,5 – 14.4 V
Current consumption: In operation:  < 10 A 10 sec. after switch-off:  < 5 mA
Front panel: fixed
Colour: black
Multicolour illumination: Keys + disc slot: 16 mill. Colours
Icons: 16 mill. Colours
ACCESSORIES INCLUDED IN DELIVERY
User manual included: yes
IR remote control: yes (incl. battery)
GPS antenna: yes
External Wi-Fi antenna: yes
External hands-free micro: yes
Trim ring: yes
Mounting frame: yes
Mounting material: yes
Connector cable sets: Power (ISO A), Speakers (ISO B), Preamp-/Sub-out, Video-out 1, 2 (RCA), Camera, A/V (RCA+ 3,5mm Jack), Fixed rear USB & HDMI, Hands-free microphone (3.5 mm jack)
Radio antenna input
OPTIONAL ACCESSORIES
Car Multimedia Controller
SafeDrive SDC 2.0: yes (incl. battery & connection box)
Descargas
El responsable exclusivo de la información facilitada aquí es nuestro socio de marca >>Más información