Large 9.0" Capacitive High Brightness Touch panel (1024X600 pixels) running Android OS v9.0, Quad Core 2.0 GHz processor, 4GB DDR4 memory, 32GB Flash Storage, 3 2v pre-outs with variable sub control, 16 band EQ, high end tuner, PhoneLINK equipped, BT Twin Connect.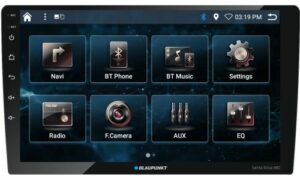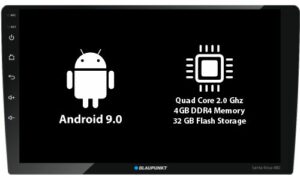 Quad core 2.0 GHz processor, Android OS v9.0  with 4GB DDR4 memory and 32GB Flash Storage
2.5G IPS Capacitive Touch Panel with High Brightness and 1024X600 pixels resolution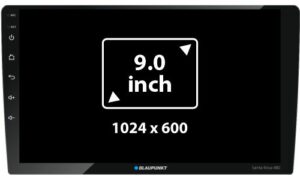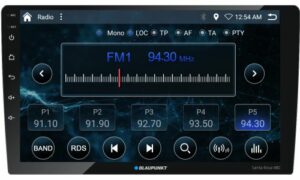 High end proprietary tuner with FM(RDS) / AM
PhoneLINK, .flac files capable via USB, Fast Boot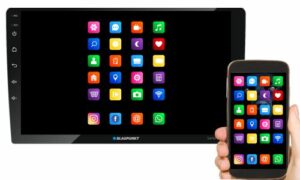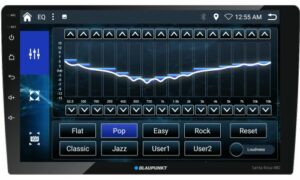 16 band EQ with Time Alignment capability
Bluetooth v5.0 with HFP, A2DP and PBAP with External Microphone and BT Twin Connect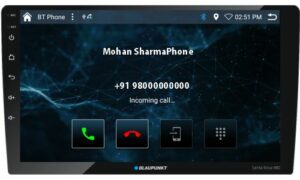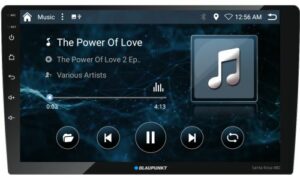 3 Standard Type A USB ports, Rear AV Input, Reverse Camera input, Video output for Rear Seat monitor
360 Degree Camera ready, AHD Camera ready, Learning Steering Wheel Control input.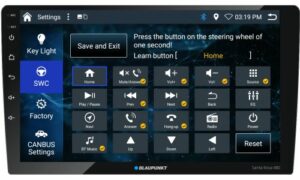 4X50 watts max power, WiFi ready for HotSpot tethering.
Feature 10
Navigation Ready / Split Screen Capable (some apps)
Specifications
9" Capacitive Touch Car Multimedia Audio System
Android OS v9.0
Quad Core 2.0 GHz processor
4 GB DDR4 Memory
32 GB Flash Storage
2.5G IPS Screen
High-grade styling
Intuitive Blaupunkt User Interface
High-end tuner, FM (RDS) / AM tuner
Ready for Navigation
Split screen (some apps)
PhoneLINK
.flac Compatible
Fast Boot
Time Alignment
Wi-Fi Ready
Phone / Mobile Hotspot tethering
Audio, Video, Picture from USB supported
Bluetooth v5.0
Built-in Bluetooth (HFP, PBAP, A2DP)
External microphone
Twin Connect
3x Rear USB (standard A-type)
Rear AV input
Rear view camera input
Steering Wheel Control input
Video Output
16 band equalizer
2V 4 channel pre amp Output
Sub out with variable gain control
4 x 50 watts max. power
Downloads