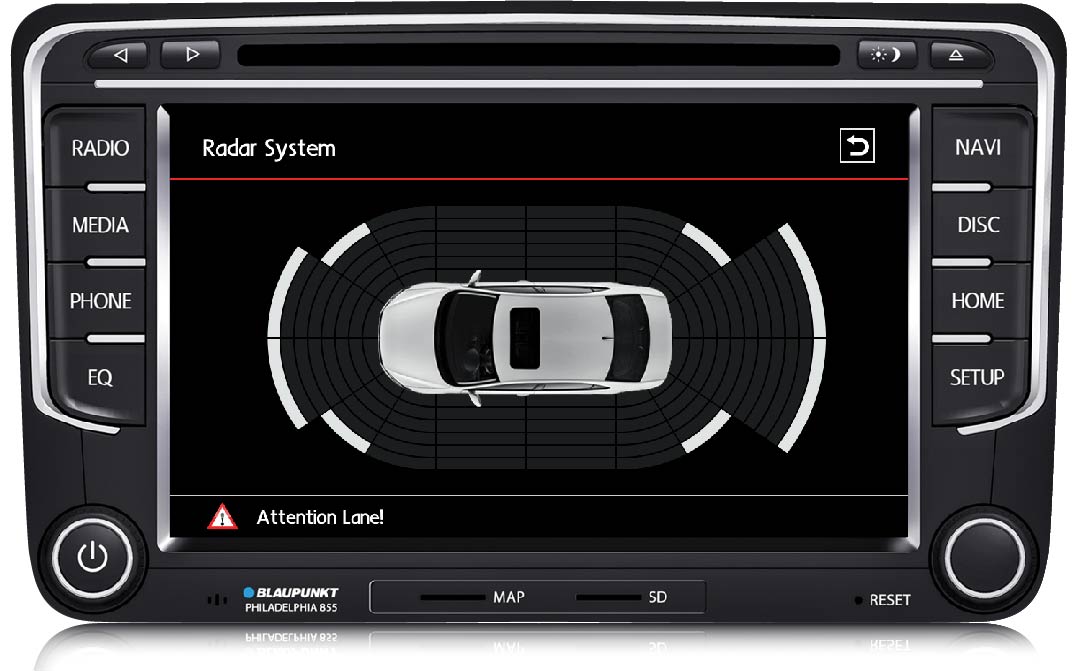 RADAR SYSTEM
Radar system activates when car is in parking mode. This sytem functions to prevent accidents during reversing activity. Despite having areverse camera, blind spots will still be present. Withradar system, the range of detection of motion approaching will be much more efficient.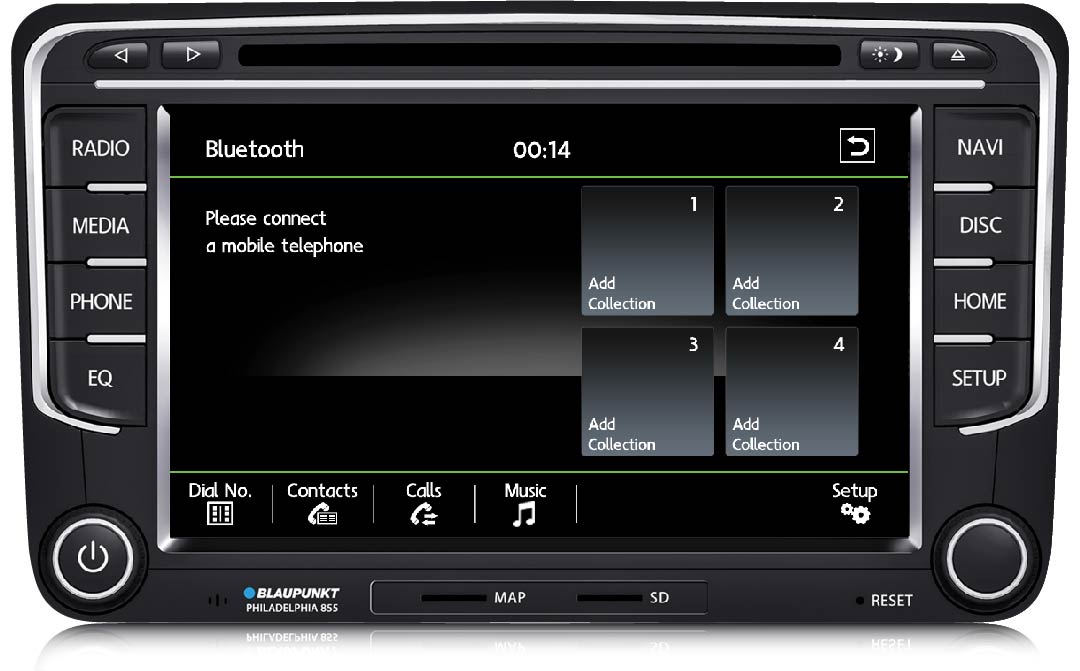 BLUETOOTH
Answer and make phone calls using the Bluetooth mode featured for you. With easy access to PhoneBook, the usage of smartphone will be reduced and safety precaution will be increased. With built-in internal microphone, audio signal is on point.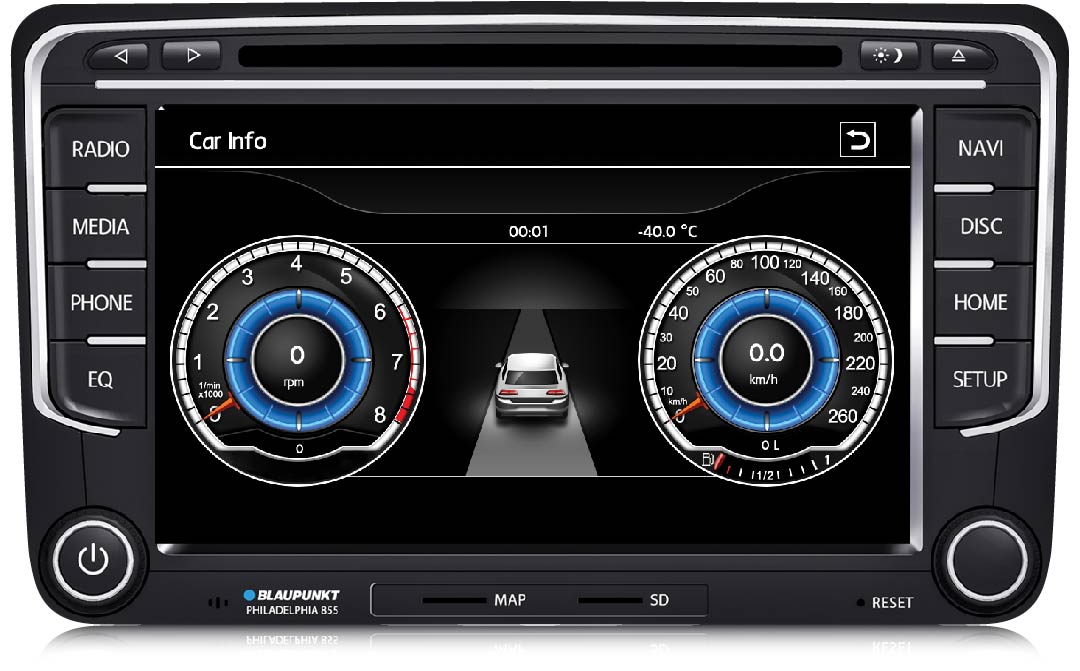 CAR INFO
Be updated with the current status of the car through the Car Info feature.Through the Car Info display, you will be able to view selected aspects such as car signal, door status, handbrake status, fuel level, car odometer, car temperature, clock and current media playback.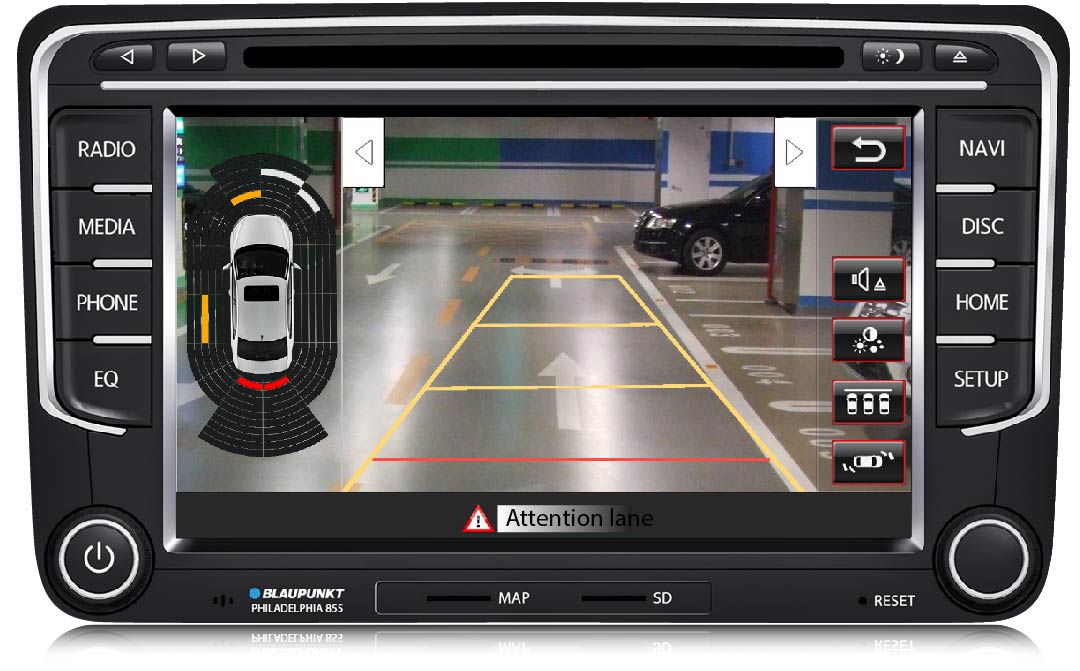 REVERSE GUIDE
A safety feature that enable to reduce blind spots and prevent colliison. Easy and convinient display for bettermaneuvering of the car, especially near a confined space like parking lots and garage.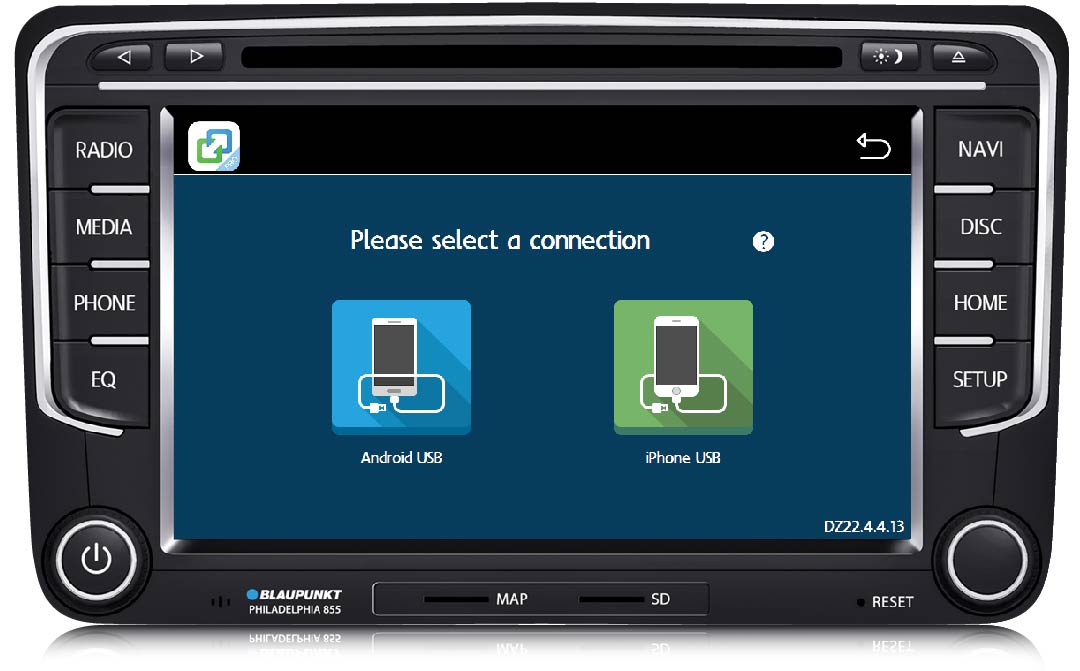 PHONELINK CONNECTION
Get connected with the smartphones in the car through the Phonelink connection instantly. Phonelink connection is available for both iOS and Android Versions. The software will be updated from time to time to keep up with the change in versions of the smartphones. As of now, Phonelink connecttion is supported up to Android 8.1 and iOS 11.4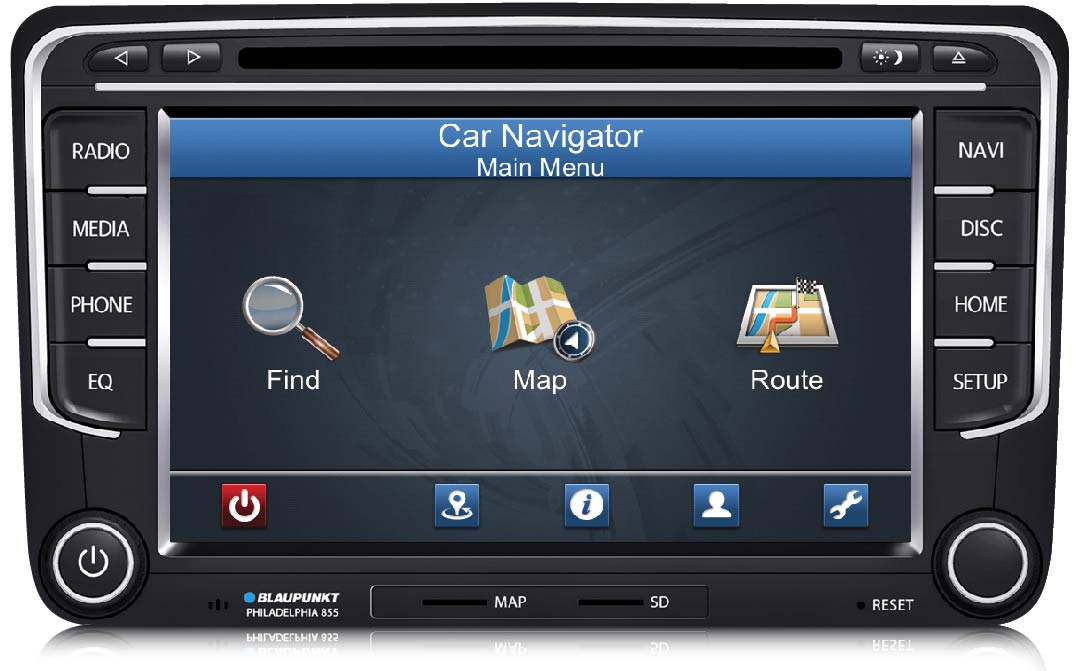 NAVIGATION-READY
Accurate route display and options to get to the destination on time. With navigation feature equipped, the map will be displayed in a crisp and clear display screen. With wider view of the map display, there is no need to take a look at navigation mobile apps.
Blaupunkt OE Fitted car radio Philadelphia 855 is designed to fit perfectly for selected Volkswagen models. The car radio comprises of plug & play feature of 7″ capacitive touch screen and other specifications such as Bluetooth connection, navigation-ready to create a safer and productive environment in the car.
The S/W Update Improvement added:
Phonelink is now compatible with Android 8.1 and iOS 12.0.1
Does not support iPhone X phone link connectivity
Go to DOWNLOADS to download the Phonelink software update.
Remark: Do not update your Philadelphia 855 if you are using the Chinese language. Phonelink for the Chinese language will be released soon.
(Compatible Car Model):
Caddy (07/2004 & above)
EOS (05/2006 & above)
Golf Plus (09/2003 & above)
New Beetle (2012)
Golf V (09/2003-2008)
Golf VI (2008 & above)
Jetta (08/2005 & above)
Passat (03/2005 & above)
Passat CC (2008 & above)
Polo (2009 & above)
Scirocco (2008 & above)
Tiguan (2007 & above)
Touran (03/2003 & above)
T5 Transporter (2010)
T5 Caravelle (2010)
Rabbit / Baro / T5 Multivan (not Highline version) (2010)
Skoda Fabia (2009 & above)
Octavia (2009 & above)
Superb (2008 & above)
Roomster (2006 & above)
FABIA / YETI
Seat Altea (05/2004 & above)
Altea XL (04/2007 & above)
Leon (09/2005 & above)
Toledo (12/2004 & above)
TRIBU / CUPRA / LEON / LEON IBIZA /
AROSA / ALTEA / TOLEDO / CORDOBA /
ALHAMBRA / CORDOBA VARIO
Specifications
Display
7" Capacitive Touch Screen Display
Resolution : 1024 x 600 pixels
Adjustable Brightness
Display Switch Off
Clock / Date Display
Clock Mode : 12/24 Hours
Radio System Languages : English
Radio
Switchable World Tuner : Europe, OIRT, Americas, Japan
Wave Bands : 18FM, 12AM
Radio Data System (RDS) : TA, AF, EON, CT
Travelstore : FM, AM
Band Scan / Preset Scan
Select via frequency scale
Frequency Response (hz) – 3dB : 30-15,000
Data carrier
DVD, +/-R, +/-RW, -ROM VCD
CD-DA, -ROM, -R/-RW
Type Disc-Drive : Automatic Loading
Shock Proof-drive : CD/DVD
Frequency Response (Hz) -3dB : 20-20,000
USB 2.0 & Micro SD (Removable Storage)
Storage Formats : FAT, FAT 32
DVD Player
Track up
Fast Forward / Fast Rewind
Position Via Progress Bar
Repeat Chapter / Title
Play / Pause / Stop / Resume
Chapter Skip / Search
Last Position Memory
Root Menu, Setup, Title Menu
Sub-Title / Audio Language
Zoom / Angle
Dolby Digital 2.0
Media Player
Video Formats : RM, MP4, AVI, MKV, FLV, WMV, 3GP, MPG, MPEG, MOV, ASF, DIVX, VOB, M4V, TRP, TP, MPE, M2V, WEBM, M2TS, TS, F4V, 3G2
Picture Formats : JPEG, JPG, PNG, BMP
Audio Formats : MP3, WMA, WAV, AAC, M4A, OGG, OGA, APE, RAM, RA, FLAC, AMR, AWB, MKA, AC3, AU, AIFF
Support 1080P Video Playback Via USB / SD Card
MP3 Title Display : ID3-tag (Verison 1 and 2), File/Folder Names
Album Art Display : Artist, Album, Song
ID3-Tag Criteria Display (By Track Number)
MP3 Folder / File Browsing
Criteria Browsing (All, Folder, Track)
Mix , Repeat
CD Text
Gapless CD-DA Playback
Bluetooth
Bluetooth 4.0
Supported Profiles : HFP, PBAP, A2DP, AVRCP, SPP
1 x Device Pairing
Pairing Code : 0000 (Default)
Hands-Free Calling via Micro + Radio Speaker
Key Function : Accept / Hang Up / Reject Call
Phone Book Access
History Call Lists ( Missed, Dialled, Received Calls)
Auto Synchronisation (On/Off)
Auto Connect / Auto Answer (On/Off) / (On/Off)
Equalizer
10-band Parametric Equalizer
Analogue Type
Subwoofer Switchable
Variable Subwoofer Gain (24 Steps)
Variable Low-Pass Filter (80 / 120 / 160 Hz)
Preset Equalizer
Balance / Fader
Switch-On Volume (Last Volume, Programmable)
Amplifier
4-channel
4 x 50 Watt Max. Output Power
Sinus Power at 14.4V
Inputs/Outputs
2 x Radio Antenna
4 Audio Channels
RCA Rear View Video Camera
Rear AUX In Audio
2 x Rear USB
2 x Video Output
2 x Video Input
1 x Front Micro SDHC
2 x Audio In
2 x Audio Out
Subwoofer : 1 Channel RCA, 2V
Steering Wheel Control
GPS Antenna
Phonelink
Smartphone Mirroring via USB, Support iOS 1-way up to 11.4
Smartphone Mirroring & Touch Control via USB, Support Android 2-way up to 8.1
Car Info
Speedometer
Tachometer
Car Current Voltage
Current Time
Fuel Gauge
Reverse Radar System
Radar System
AC Mode
Navigation
Accesories
Manual
GPS Antenna
Power Cable Sub Harness
RCA Cable
Aux In Cable
Reverse Camera Cable
USB Cable 2-ways