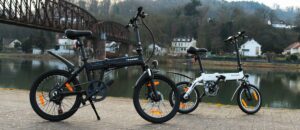 The foldable 16-inch "Carla 180" e-bike in stylish white with a folded size of 680 mm (L) x 380 mm (W) x 630 mm (H) is a great means of transport for any situation.
The bike weighs only 13.8 kg, making it one of the lightest models in its category. Like its 20-inch male counterpart, the "Carl 280", it has a powerful 250W 36V motor with 35Nm of torque that requires little maintenance.
The user has five driving modes to choose from, allowing the vehicle to travel at a maximum speed of 25 km / h. The powerful LG lithium-ion battery (7.8 Ah 280 Wh) provides a range of 50 to 70 km with a fully charged battery. It takes approximately 3.5 hours to recharge for full power. The battery is housed in a stylish aluminum frame in the center of the bike, which ensures perfect vehicle balance.
MECHANICAL ELEMENTS
Aluminum frame
KENDA 16 "x 1.75 hybrid tires
Mechanical rim brakes on the front and rear wheels
Maximum load up to 130 kg
ELECTRICAL COMPONENTS
DC 36V 250W motor, brushless motor
Battery 36 V 7.8 Ah 280 Wh LG – Lithium-ion battery
Intelligent DC 36V 13A controller
5-stage pedal support
Bike computer with LCD display and power level control and indication of maximum speed / power level / travel time / single mileage / avg. speed / total travel time / speed
Charger – AC 100-240 V input, DC 42 V 2 A output
Charging time about 3.5 hours
Approx. 50-70 km (30-43 mi) range (with 100% charged battery)
Speed ​​(supported) 25 km / h (15.5 mph)
SIZE / WEIGHT
Size: 1360 (L) x 560 (W) x 1050 (H) mm
Size (folded): 680 (L) x 380 (W) x 630 (H) mm
Weight: 13.8 kg (with battery)
Color: Arctic White
KIT CONTENTS
Carla 180 electric bike – 1 piece
Charger – 1 piece
User manual – 1 piece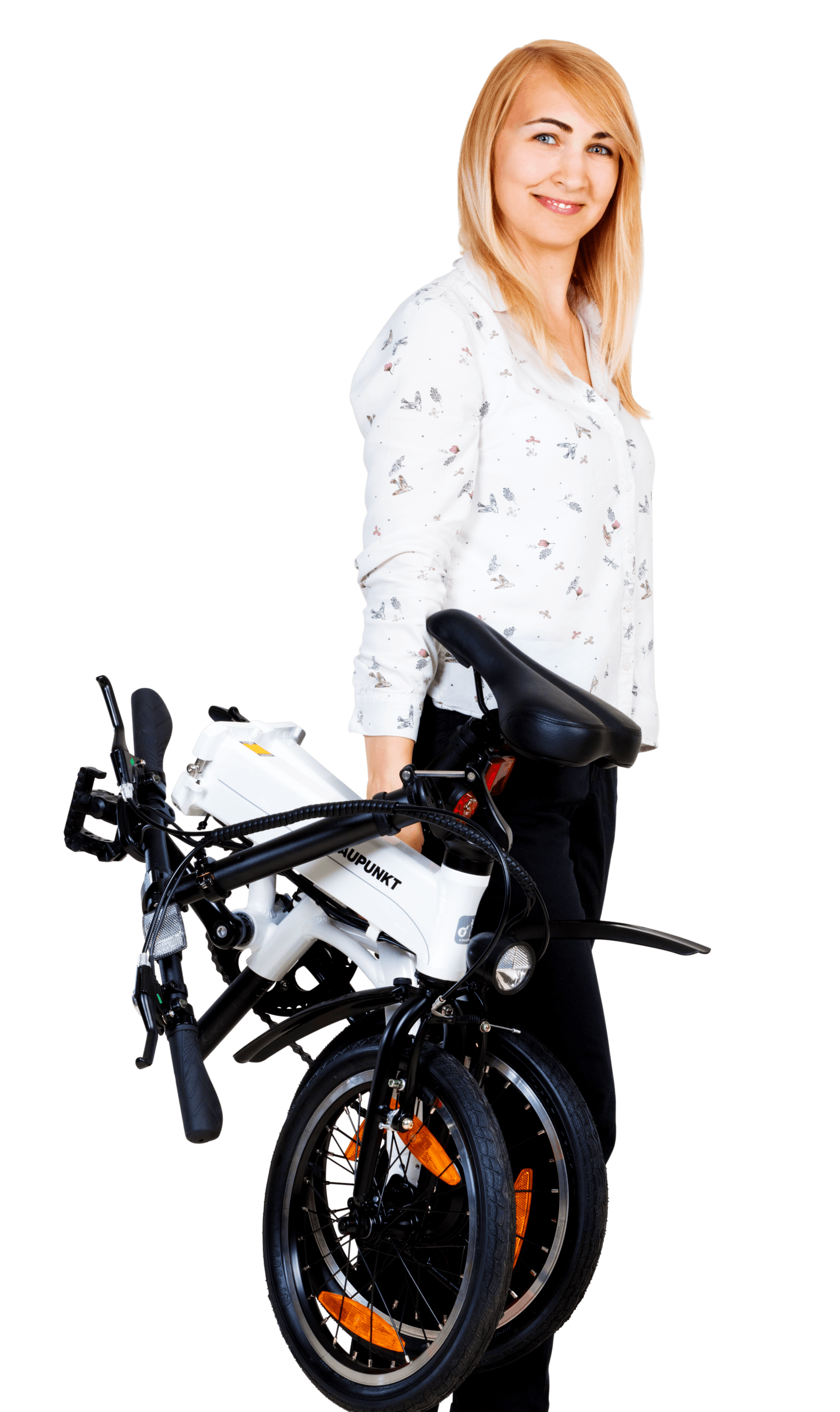 Specyfikacje
Intuitive folding

Long battery life

Efficient motor with 250 W 36 V and 35 Nm torque

5-step pedal support

LG 36 V 7.8 Ah lithium-ion battery with a safety mechanism

Bicycle computer with LCD display

Range about 50-70 km

Top speed 25 km / h

Fast and intelligent folding mechanism

16 "wheels

Weight 13.8 kg

EAN code: 4 260 499 850 982

Intuitive folding
Long battery life
Efficient motor with 250 W 36 V and 35 Nm torque
5-step pedal support
LG 36 V 7.8 Ah lithium-ion battery with a safety mechanism
Bicycle computer with LCD display
Range about 50-70 km
Top speed 25 km / h
Fast and intelligent folding mechanism
16 "wheels
Weight 13.8 kg
EAN code: 4 260 499 850 982
Pliki do pobrania